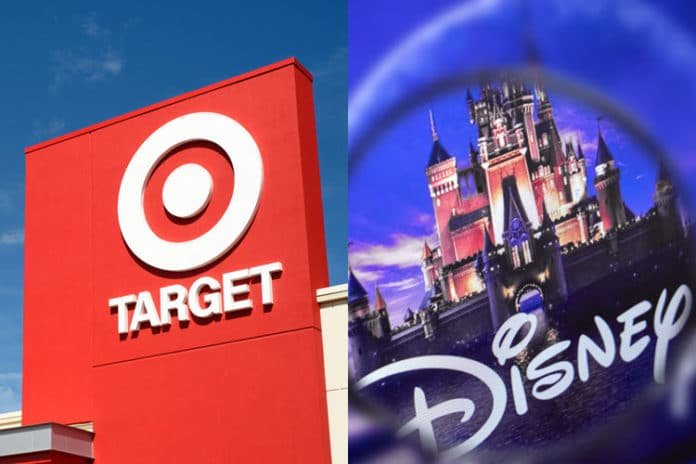 Last Updated on January 12, 2020 by Mark P.
Back on Aug. 25, Target CEO Brian Cornell and Chairman of Disney Parks Bob Chapek announced the partnership at the D23 Expo in Anaheim, California.
The Disney store at Target will open to another 40 stores by October, the retail stated in a release, and consumers can shop online at the Target Disney store after the site's launch Oct. 4. According to Target, the new partnership will feature more than 450 Disney items such as toys, games, clothing and more with products that were only previously available at Disney retail locations.
The store will sell fan-favorite products such as Disney Princesses, Star Wars, Marvel and more.
"Our teams worked closely with Disney to co-develop and design the store experience with features like music, interactive displays, photo ops and a seating area where families can watch Disney movie clips," Target wrote in a press release.
Additionally, a new Target store will open near the Walt Disney World Resort in Orlando by 2021. Target stated that the new Disney items will be eligible for the Target REDCard 5 percent discount, same-day pickup, same-day delivery and free two day delivery options.
"The Disney store at Target launches on Target.com and in select Target stores this October," Target wrote in a press release. "Prices range from $2–$200, with many items under $20. Stay tuned for more details coming soon!"
The new Disney at Target stores will open in Texas in Allen, Austin, Euless, Pasadena and Spring. California will see two Disney at Target openings in Murrieta and San Jose College Park, and Florida will also see two openings at Clearwater and Jacksonville Mandarin. Additionally, Denver Stapleton, Colorado and Loveland, Colorado will see Disney at Target locations. Other states that make the list include Montana, Michigan, Oklahoma, Oregon, Washington, Virginia, Minnesota, Alabama, Utah and Indiana.
According to Market Watch, the move looks to build on Target's strong sales streak.
"Last week, the discounter raised its annual profit expectations after reporting strong second-quarter profits and sales," Market Watch reported. "The discounter has been sprucing up its stores with new brands and displays."
Additionally, Market Watch suggests that Disney is looking to expand its customer reach from its current 300 stores globally. Chapek told Market Watch that there was a 90 percent overlap between Target and Disney customers.
"Target, which has long sold Disney merchandise, says the Disney shops will average about 750 square feet each and will be located near children's clothing and toys," Market Watch reported.
Related Review: Best Disney Karaoke Machines