Last Updated on April 17, 2022 by Mark P.
Whether you're looking to purchase a new Nintendo Switch or Switch Lite, Nintendo has a few deals going on for this Black Friday. The Nintendo Switch, a popular console that's seen the top of the charts for the past 10 months, has a few specials going on for holiday shopping.
Nintendo stated that starting Nov. 28, select retailers will offer a bundle that includes a Nintendo Switch system and a download code for one of its best-selling games Mario Kart 8 Deluxe for a total price of $299.99. Participating retailers are Amazon, Best Buy, GameStop, Target and Walmart. While the discount doesn't drop the price of the Switch — gamers will get the popular Switch version of Mario Kart for free — a $59.99 value at retail price. This here is our top pick though these next deals are great as well.
Additionally, Nintendo said it will offer several Switch games at a discount of $39.99 — $20 off its regular price during Black Friday sales and starting on Nov. 27. Games that will be at participating retailers for the $20 discount include some of the Nintendo Switch's top-selling titles: "The Legend of Zelda: Breath of the Wild," "Super Mario Odyssey," "Super Mario Party"," Splatoon 2," "Donkey Kong Country: Tropical Freeze," "Mario Tennis Aces" and "Kirby Star Allies," among others. Participating retailers are Amazon, Best Buy, GameStop, Target and Walmart.
"With Nintendo Switch, parents are not just giving a gift to their kids – they are providing fun for the whole family who loves to play together," said Nick Chavez, Nintendo of America's Senior Vice President of Sales and Marketing in a release. "Families who have been waiting to pick up a Nintendo Switch system have the perfect opportunity on Black Friday to take advantage of one of our many offers and add some Nintendo fun to their holiday plans."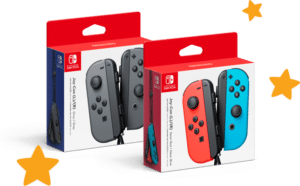 Along with a new game and console bundle, Nintendo Switch users can purchase new Joy-Con controllers (Gray, Neon Red and Blue) for $59.99 — regularly priced $79.99. Another accessory Nintendo is offering on sale is the Poke Ball Plus accessory for $20 that goes with "Pokemon: Let's Go, Pikachu!" and "Pokemon: Let's Go Eevee!". Participating retailers are Amazon, Best Buy and Target.
Starting November 27th, you can also save 60% on a Poké Ball™ Plus accessory. Participating retailers include Amazon, Best Buy, GameStop, Target and Walmart offering it for only $19.99, a savings of nearly $30.
Nintendo also release a holiday guide to help customers find the perfect gift for their loved ones. The list helps navigate a catalog of Nintendo's top titles and the must-have games of the season like new releases "Pokemon Sword" and "Pokemon Shield," which comes out Nov. 15.
"Nintendo Switch is also home to well-received games like 'Super Mario Maker 2,' 'Super Smash Bros. Ultimate' and 'New Super Mario Bros. U Deluxe,' all of which can be enjoyed together with the entire family," Nintendo wrote in a release. "And any game that is compatible with Handheld mode can also be played on the recently released Nintendo Switch Lite system."