Last Updated on November 15, 2021 by Mark P.
There are a number of retailers that offer the Honda EU7000is generator for sale.
See links below to compare pricing from the top sellers.
Current Honda 7000
Generator EU7000is Prices
Oops! Something went wrong in loading products.
Honda 7000
Generator EU7000is O

verview

The Honda 7000 generator, model EU7000is, is a 7000 watt 120/240V inverter generator that can be used in countless situations with countless appliances to make bad situations better and outdoor excursions bearable for even the least outdoorsy.

This is a big generator. There's no getting around that. With a dry weight of 261 lbs., there needs to be an easy way to transport it around. Luckily, this isn't Honda's first rodeo. Between strong and durable wheels, and fold-down handles, the only difficult part of transportation is getting this in and out of a truck bed. If you keep it in your garage or shed for use on your property, this concern doesn't even apply to you.

There are two ways to start the Honda EU7000iS; electric and recoil. With the push of a button, all systems are go. Recoil serves as a backup for the electronic start system. Once running, the i-Monitor system will track hours of operation, battery life and other various diagnostics. Thanks to this feature, you can monitor your generator's health and catch potential issues before they affect performance.

One thing we love about Honda generators is their Eco-Throttle System. This piece of technology maximizes efficiency, reduces fuel consumption and helps prolong the life of your generator since it won't run harder than it needs to.

When the 5.1-gallon tank is filled, it will run 18 hours at peak efficiency. If you're working it to the bone, you'll only get 6 hours. In most cases, the generator will end up running somewhere in-between—both 6 and 18 hours are the extreme.

If you want to stay safe (and follow Honda guidelines), they recommend using gasoline only. If you were to try using propane or other natural gases, you'd be making complete safety more difficult, or even impossible, to achieve.

For noise, the EU7000iS is pretty quiet—another perk of inverter technology. While running, noise output will range anywhere from 50-60 decibels, not much of a difference from a normal conversation between a few people.
What can the EU7000iS power?
Starting small, the Honda 7000 generator can power appliances such as televisions, blenders, lights and other low power-drawing electronics. Due to its use of inverter technology, it is also safe to use things like computers, game consoles and other delicate electronics.  Notably, it can power a bunch of these at the same time.
You aren't spending thousands of dollars to power a reading light. We get that. Honda gets that. When you start getting into the larger appliances, there's not much around your house or campsite that can't be powered.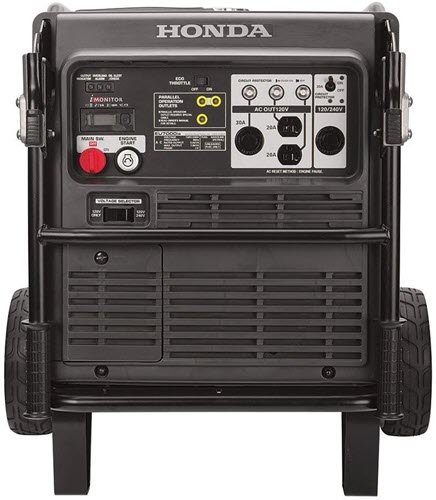 At the top, this generator can be used to keep your freezer frozen during a power outage. After a flood, it will power a sump pump to clear out your basement and begin the agonizing cleanup process. Additionally, it will power window AC units and small furnaces making July camping trips and mid-winter expeditions possible.
In the event you need even more power, a second EU7000iS can be paralleled to provide 14000 watts of power. What may seem like a daunting process is actually quite simple and involves connecting the two generators through a few wires (an accessory manufactured by Honda).
From the smallest to the largest appliances you own, you're in good hands with a generator that harnesses this much power is a controlled fashion.
Engine—Honda GX390 EFI
Displacement—389cc
AC Output—120/240V 7000W max. (58.3/29.1A) 5500W rated (45.8/22.9A)
Receptacles—20A 125V GFCI Duplex (2), 30A 125V Locking Plug, 30A 125/250V Locking Plug
DC Output—N/A
Starting System—Recoil, electric
Fuel Tank Capacity—5.1 gal.
Run Time per Tankful—6.5 hrs.@ rated load, 18.0 hrs. @ 1/4 load
Dimensions (L x W x H) —33.4″ x 27.6″ x 28.4″
Noise Level—58 dB(A) @ rated load, 52 dB(A) @ 1/4 load
Dry Weight—261 lbs.
Helpful Video from Honda via YouTube
Related: Honda Generators
More information on Honda generators. Read more about the basics of buying a generator as well as what the best generator brands are.
Rating: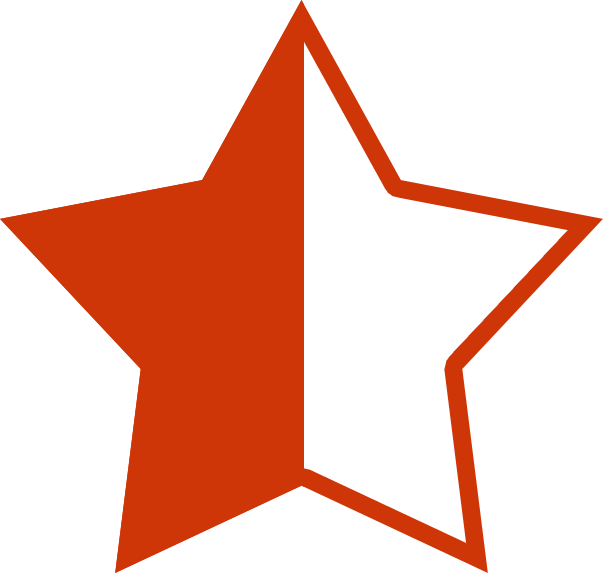 4.5 out of 5 stars
Honda 7000 EU7000is Generator Review
What we liked
Clean and Powerful
In most cases, inverter generators are less powerful than convention models. The EU7000iS offers a rare combination of sufficient power for large jobs, and the clean and stable reliability inverter loyalists have come to know and love.
On the inverter side, you have power that is stable enough to safely run electronics. With conventional generators, you're more prone to surges and momentary lapses. When you use an inverter generator, you are paying a premium for power you can count on to run even your most delicate (and irreplacable) appliances.
Due to the price of inverter generators, the most common models you'll see out there are only a few thousand watts. The EU7000iS comes with a full 7000 watts (as you might have guessed from the name). From a small fan in your living room and your morning coffee to window air conditioners and full-size refrigerators, this model generator has you covered.
Built-in Safety Features
There are three lights on the generator's side. When all is right, none will be on.
Each light serves as an indicator for potential trouble, just like the lights on the dashboard of your car. They alert you to issues with output, overload and oil. Keeping track of these three things are essential to keeping your machine in pristine condition and keeping the onus off of you makes life easier.
When things get to be too much, there are electronic circuit breakers that turn your machine off when necessary. By automatically shutting off, just like the breakers in your home, the generator is protecting itself from sustaining serious damage. In turn, this protects your large investment—the tool which will provide you power in a time of need.
What we didn't like
Honda EU7000iS Price
The Honda EU7000iS is powerful, but expensive. With a list price coming in at more than $4000, a generator that comes in a (relatively) small package, but with a large price tag must be properly taken care of.
Since it is used outside, it would be very easy to ignore every nick or scratch that appears on the outside. While the outside is mostly aesthetic (you definitely don't want knobs breaking off or labels removed), it reflects how you treat your generator.
Likewise, the interior components must be protected, maintained and cleaned in order to ensure a long life, as well as proper function. When you invest the equivalent cash value of the car you buy your child to learn to drive, you need to take care of it.
In order to make up for the price that you're paying, this should be the last generator you buy. This means that what you pay (plus gas, oil and any repairs) will be all you pay. No more going cheap on a generator only to realize you need a new one two years later. This is a generator that if you buy, you need to treat it right. Otherwise, it will be a waste of money (and a lot of it).
Weight
Wheels and handles are great for flat terrain. Where things start to get hairy is if you use your generator anywhere besides your home.
One of the most common professions where a generator is used is on a construction site. They're great to run power tools off of and provide an easy solution to lack of power in a remote location. But, what happens when you need to get it upstairs in a home that is only framed out or even in and out of a truck?
Special considerations must be made. You'll likely end up using long extension cords or battling the terrain to move it close to where you're working. This issue also doubles on campsites as you do not want to let it out of your sight (thousands of dollars invested, remember?). Luckily, once it's on the ground, you can move it freely and if you have a truck you can use planks to get it back in your bed, just like a lawnmower.
Is this the generator for you?
Right off the bat, one of the things that jumps out is that this is an inverter generator. While the price might not match the power of conventional generators, it more than makes up for it with stability and the variety of appliances that can be used with it.
If you plan on finding yourself in a remote location, but cannot go off the grid and still need Wi-Fi and your computer, using this generator will have you feeling like you're right in the office. Now the generator might not be able to replicate your comfy desk chair or nice view, but it provides the essentials. With this generator, you can set up shop regardless of where you are, or what's going on around you.
Another aspect that gets overlooked by many is how easily this generator starts. If you have a bad back, shoulder, or just aren't strong enough to pull start a large generator, you need another way. By including a push start, Honda has made the EU7000iS accessible for nearly everyone.
The only drawback is the weight of the model, which without the wheels and handles would be impossible to move. By easing transportation and starting, Honda has made this an ideal option for those who do not want to, or are unable to exert major physical force to use a generator.
Do not buy this generator if your power goes out once a year. Do buy this generator if you lose power frequently, go camping a few times a year or are a mainstay at outdoor tailgates. Whether it's for business, pleasure or something in-between, if you use a generator with some regularity, you need an efficient, reliable and long-lasting generator.
The EU7000iS is a model you can trust for years and run a variety of appliances off of. Additionally, it comes from Honda—a brand that has grown synonymous with high-quality machines and customer support.
Store: Amazon
Brand: Honda
UPC: 00786102004732
SKU: EU7000iAT1