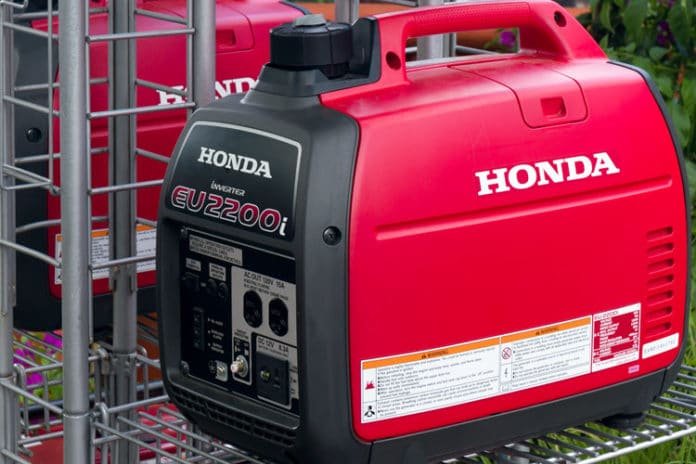 Last Updated on December 3, 2020 by Mark P.
What is a Honda Inverter Generator?
If your power is already out, save yourself some trouble. Go buy whatever you can find at your local hardware store.
If you're reading this because you want portable power for a camping trip, tailgate or in the event your power goes out—you're in the right place. Now, what is a Honda inverter generator (and why is it better)?
Honda inverter generators are a line of portable, reliable and stable power sources. Ranging from 1000-7000 watts, they are capable of running a wide range of household appliances, electronics and tools.
Inverter vs Traditional Generators
A Honda Inverter Generator is not the standard generator that you grew up with. When compared to conventional or regular generators, inverter technology is far from the same. Basically, it distinguishes itself in a number of ways.
Power Process
Your Honda inverter generator will work as hard as it needs to. With the ability to self-regulate based on its current load, inverter generators are more efficient than regular ones.
Contrary to popular belief, regular generators do not produce electricity. Without getting too deep into detail, they take energy from one source and relay it to appliances. If you want to know more, we'll that to the people at How Stuff Works.
The energy conversion process for inverter generators is a bit more complicated. Through this, it produces a steadier stream of electricity. With an inverter, an AC current converts to DC and then back to AC before making its way to your appliances.
Emissions
Inverter generators burn less gas than conventional generators. As a result, their tanks are generally smaller as well. Despite heightened efficiency, inverter generators have shorter run times and need to be refueled more frequently.
Back to the actual emissions. Inverter generators run cleaner and emit less emissions compared to regular generators. While no manufacturer has cracked the code for a carbon neutral generator, Honda inverter generators are less harmful to the environment than conventional models.
Noise
This is not up for debate. A Honda inverter generator will run quieter than a regular generator. We all know when our neighbor is running a regular generator—it's loud. With an inverter generator running nearby, you can easily talk to another person without shouting. Most Honda inverter generators run around 60 decibels or less, providing less of a "disruption" than regular generators.
Stability
Inverter technology provides the smoothest energy possible from a portable generator. While regular generators might surge up and down, inverter generators provide a steady, constant stream. It's this factor that allows users to comfortably hook up delicate electronics. With an inverter, there is minimal reason to worry about "frying" your devices.
These differences are just the tip of the iceberg, but we consider them the most important.
Honda Inverter Generator Models
Honda produces 15 different models of inverter generators. From as small as 1000 watts, up to 7000 watts, there is a Honda inverter generator designed to suit your needs.
If this power level isn't enough for what you have planned, Honda has you covered. Thanks to parallel capabilities, Honda inverter generators can be connected to an identical model. This feature provides double the power with no sacrifice in performance required.
While the smallest are as easy to carry as the gas can you'll need to fill it, larger generators are a bit heavier. As weight increases, Honda adds features such as handles and wheels. These ensure that no matter who gets put on generator duty, they'll have no problem getting the portable power source where it needs to go.
Pricing
A Honda inverter generator will not be the cheapest option available. Where price becomes a non-factor, however, is reliability and a lengthy expected lifespan.
The most affordable Honda inverter generator will run you around $1000 dollars. As you shift to the more powerful models, the price tag will increase significantly. The strongest Honda inverter generator will cost around $5000. With more than a dozen models available, you're sure to find something that fits your needs and budget.
From Honda via YouTube
Honda put out a great video discussing their EU inverter series generators that discusses what they can be used for, a general overview of the engine technology, why an inverter is typically better than traditional generators and their eco-throttle system.
Related: Honda Generators
More information on Honda generators. Read more about the basics of buying a generator as well as what the best generator brands are.