Last Updated on December 3, 2020 by Mark P.
Amazon has the Honda 1000 EU1000i Portable Inverter Generator on sale for $859.00, marked down from the list price of $939.00. Shipping is free.
Scroll down for some informational videos from Honda via YouTube.
Honda 1000 EU1000i Generator Overview
The Honda EU1000i generator, also called the Honda EU1000i or Honda 1000, is a portable inverter generator. As the name suggests, it can produce 1000 watts of power.
Just as you would a suitcase or cooler, taking the Honda EU1000i on the road is no problem. At 29 lbs., this is truly a portable generator. Added weight due to things like oil and gasoline is minimal. With a .6-gallon gas tank, you'll hardly notice the difference between an empty and fully loaded generator.
To give you an idea of what 1000 watts gets you, some of the most common uses of the EU1000i are powering microwaves, coffeemakers, portable fans and televisions. While this this list is far from all-inclusive, it gives you an idea of what you'd be capable of should you choose this model.
Based on power levels, this generator is best served running smaller appliances and basic household items. Whether it's indoors or outdoors, you will have suitable capability to run the necessities. Even though it can run machines that are indoors or outdoors, you must always make sure it is properly ventilated. Due to the nature of generators, allowing excess fumes to build up could spell trouble.
Honda cares about their products; they also care about their customers. In each product they design, safety plays an integral role. When oil levels run low, there is no danger. Honda uses their Oil Alert system to automatically shut the generator off before any damage is done to the machine. When you plug too many things in, circuit protection will also prevent the generator from being overloaded.
Now you will not be able to power every appliance in your home with this generator alone, but a variety of outlets allow you to use it for multiple appliances at once. At this point, your main concern would be plugging in too many things and having power run too low to be effective.
Inverter generator power is considered to be so stable that it can power a computer without any issue. While conventional generators might have momentary lapses and surges, using an inverter generator provides the same experience you would get from plugging something into a wall. Even in a power outage, or from a remote location, you will still be able to get your work done (Wi-Fi permitting).
Related: Honda Generators
More information on Honda generators. Read more about the basics of buying a generator as well as what the best generator brands are.
Rating: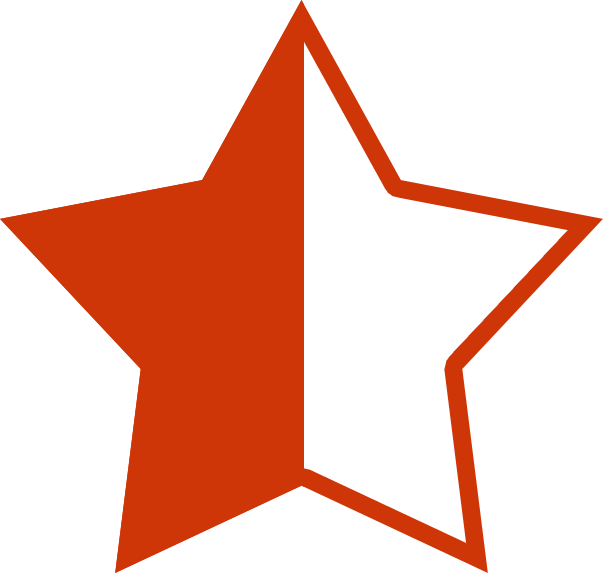 4.5 out of 5 stars
Honda 1000 EU1000i Portable Inverter Generator Review
What we liked
Noise level
The Honda EU1000i portable inverter generator is quiet. With older and more traditional generators, this was not usually the case. In many instances, the noise emitted by the generator would drown out everything around you.
For example, if you were using your generator to power a radio for a nice, family sing-a-long, the radio would have to be on full blast. With this generator, you can keep it to a dull roar, with only your singing being the thing that drives your neighbors crazy—not just the generator. If you have a traditional generator, your best bet would be turning it off and going acoustic for the singing with the family around the campfire. Hey—for some people, that's the ideal situation.
As an added plus, your quality of sleep will increase. Try sleeping with a 20-year old generator running and then try sleeping with a modern inverter generator running. The results will speak for themselves.
Low noise level and protection
All too frequently we've seen horror stories of generators being stolen. Whether you're using it to supply your home with the bare amount of power needed to survive after a storm wipes out your electricity, or you've just brought it camping with you—your generator should be there the next morning.
As much as we'd like to live in a society without crime, there will always be people who see (or hear) an expensive appliance running and think of it as a quick payday. The low noise levels emitted by the Honda EU1000i acts as a protection plan of sorts. Without the excessive noise levels we associate with traditional generators, you will be able to run the generator without being detected by anyone passing by.
Power up
When you buy a generator, or any appliance for that matter, you usually have an idea of how you will use it. In many cases, plans change. Rather than to send you shopping again, Honda has made it easy to boost the power level of the generator you've already purchased.
This isn't like a computer that you can boost memory or install additional hardware, but refers to the fact that two Honda generators can work together to supply more power wherever, or whenever, you might need it. This process is called "paralleling".
User friendly – no experience necessary
Even without having used a generator before, you will have no problem operating the Honda EU1000i. Besides Honda's concerted effort to include manuals that hold your hand as you walk step by step through running it, everything is labeled.
The feature that helps this all come together, the labels, will help you put into action the plans carried out by the instruction manual. Even on/off are labeled—there is no guesswork involved. With clear labels, you will never have to worry about making a misstep when operating a powerful machine.
What we didn't like
Upkeep & Maintenance
Like all generators (or machine with an engine), the Honda EU1000i requires regular maintenance and upkeep. Despite the fact there is nothing you can do to avoid this, it is worth noting.  Without proper care, this generator will not last very long.
Whether is it maintenance due to frequent use, or upkeep from begin used so infrequently, plan to spend some time maintaining the condition of your Honda inverter generator. Should you be unable to do this on your own, you will also need to set aside some funds to pay someone for this service.
In a perfect world, your machinery would be able to clean and maintain itself. The truth is, while modern mechanics have surpassed many of our greatest expectations, we still have a long way to go. If you are not willing to put in the necessary hours and dollars to service your generator, you're better off not buying one in the first place.
Fuel tank
You should never travel with a generator that is already fueled up. Once you get to where you're going though, most people only want to fill it once. In an effort to reduce size and conserve weight, Honda utilizes a .6-gallon tank. On the bright side, this small tank can last up to 7 hours.
Unfortunately, most camping trips and severe power outages last longer than this. To keep your generator running and your appliances powered, you will have to keep a gas reserve nearby.
While some people are comfortable using extended gas tank setups, it could lead to danger. If this system is not set up properly, it could lead to leaking gasoline or damage to the machine.
Additionally, it means you will be leaving several gallons of gas unattended, and the smaller tank usually gives you an excuse to makes sure everything is running smoothly.
Is this the generator for you?
Pulling the trigger and buying a generator is a big decision. They are expensive and serve a very specific role. When you pick the right model, however, the quality of your life can greatly improve. Whether it's for recreation or emergency use, you want a generator that you can rely on when the time comes.
Honda EU1000i users will agree with us that the best use for this generator is personal use. Due to power restrictions, the generator is not capable of handling heavy industrial use. Additionally, it is not powerful enough to be relied on for heavy personal appliances. Basically, if you want to run full-size refrigerators, ovens and things of that nature simultaneously, you'll have to look elsewhere.
Due to how easily this generator is operated, it is the perfect introductory model. Rather than relying on your own mechanical prowess, Honda takes all guessing out of the equation. If you're someone who wants to have a machine like this, but has only a small amount of experience operating them, Honda is the brand for you.
Honda knows their customers, and knows that needs evolve over time. Thankfully, you can purchase an additional generator at a later date that can be used to supplement power.
This helps you get into the world over generators, without overspending or buying a model that is far too powerful for what you need. Since you can upgrade power later on, the Honda EU1000i makes a ton of sense for people who know they need a generator, but are not sure what kind is best for them.
Terms you need to know
Inverter generator (vs. traditional generators)
Inverter generators differ from traditional generators in three main areas: current, power and portability.
Inverter generators produce AC currents, convert it to DC and then back to AC before emitting it and passing it along into your appliances. On the contrary, traditional generators only produce AC currents.
On average, inverter generators are less powerful than conventional generators. They have smaller engines and fuel tanks, but are more efficient. Additionally, inverter generators tend to be lighter as a result. What they lack in power, they certainly make up for with stability. Not a bad trade off when looking at this big picture.
Continuing on with weight, smaller engines and fuel tanks make inverter generators lighter. While some of each kind might billed as "portable", the Honda EU1000i weighs under 30 lbs. For traditional generators, it is not out of the ordinary for a portable unit to be double that weight.
Paralleled
We talk a little about this in the "What we like" section, but figured we'd provide a little more context here. "Paralleled" is when you take two generators and connect them to work together. Once connected, you will be able to run the generators together as one at their cumulative levels of power.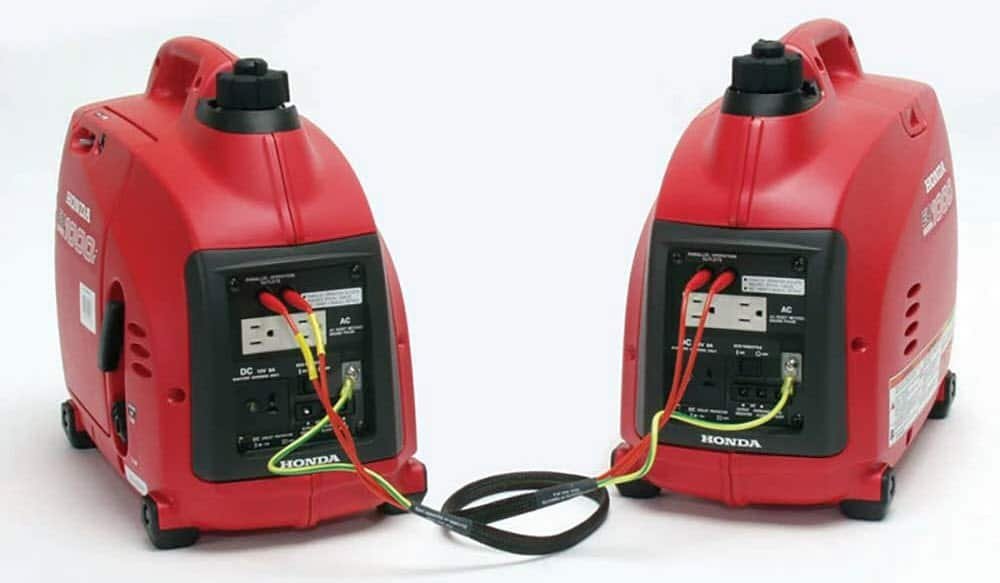 For example if you use two 1000-watt generators together, you will have 2000 watts of power at your disposal. This means you can run appliances and other things that require more power than supplied by a single unit. Alternatively, you can run more smaller appliances and machines off of the two generators.
Specifications
Engine—Honda GXH50
Displacement—49.4 cc
AC Output—120V 1000W max. (8.3A) 900W rated (7.5A)
Receptacles—15A 125V Duplex
DC Output—12V, 96W (8A)
Starting System—Recoil
Fuel Tank Capacity—0.6 gal.
Run Time per Tankful—3.2 hours @ rated load, 7.1 hours @ 1/4 load
Dimensions (L x W x H)—17.7″ x 9.4″ x 15.0″
Noise Level—50 dB(A) @ rated load 42 dB(A) @ 1/4 load
Dry Weight—28.7 lb.
Storage
Store: Amazon
Brand: Honda
UPC: 00408720000803
SKU: EU1000IKC