Last Updated on May 29, 2020 by Mark P.
September is a great month for deals and sales, whether you're an Xbox or a PlayStation kind of person. But if you are of the latter breed, the following deals and discounts are for you to consider. Retailers are marking down all sorts of PlayStation-related goods, from consoles themselves to numerous games. We'll talk about some of the best PlayStation deals to take advantage of in the month of September right here. Note: Pricing may change at any time throughout the month.
Sony PlayStation 4 Pro 1TB
First up is the PS4 Pro, which is on sale right now at Google Express for $350. Granted, this console sometimes only costs $350 to begin with, but it's usually on sale closer to $400. Besides, if you use the promo code SEPTSAVE19, you'll be able to save even more money, which will well and truly bring the price down below typical retail prices. That promo code is good until September 29th. For other PlayStation Consoles, Walmart is currently selling the PS4 Slim at a discounted price of $260. Many other retailers are still selling the console for the usual $300, so saving $40 at Walmart isn't a bad deal at all. You can also get the PlayStation Classic at GameStop for just $20, if you're interested.
This is for the playstation 4 pro at google express.
See deal at Antonline via Google Express
Control for PS4
Another major sale to take into consideration is the game Control, recently released by Remedy on August 27th. As you can see, this game literally just came out, and yet, you can already get it for a price as low as $38.24 on Amazon. The game has received excellent reviews and critical acclaim, so this discount isn't because it didn't do well enough in sales. Amazon is probably just trying to match the low price that Target is offering on the game, though Target's deal only works if you pick it up in stores. Target's deal also only lasts until the 7th of the month, so you can reasonably expect that Amazon's deal won't last much longer than that date either.
PS4 DualShock Controller Red Magma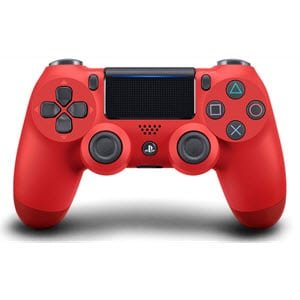 Another great deal going on at Amazon at the moment is for a PS4 DualShock wireless controller. Whether you need a new replacement or just want some extras on hand for those local multiplayer days, there's an aesthetically pleasing Red Magma themed controller on sale for just $43.99, which is significantly cheaper than the usual price of $65. Even if you don't care that much about the aesthetic aspect of the controller, getting a brand new one at such a good price is still too good to pass up.
Sony PlayStation 4 1TB Slim Gaming Console
Also worth mentioning is the Sony PlayStation 4 1TB Slim Gaming Console from Walmart, available for $259.99. It's sold and shipped by antonline.
These are hardly all of the available deals available for PlayStation right now; remember to check the PlayStation Store to see just how many games are on sale this September as well.