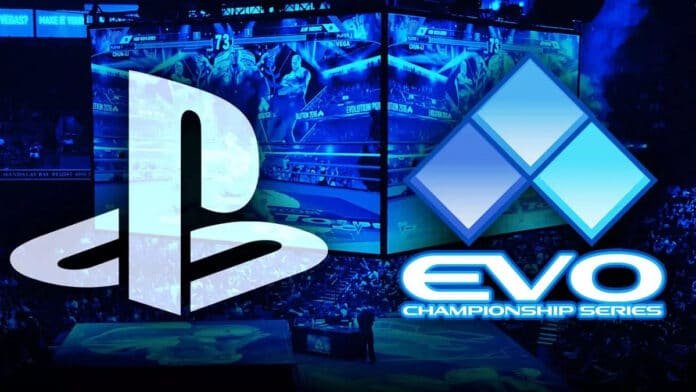 Last Updated on March 29, 2021 by Mark P.
In a recent announcement made by Sony, it has been stated that PlayStation has acquired the rights to the Evolution Fighting Games Tournament, better known by its abbreviation, EVO. On the Sony Interactive Entertainment blog, Sony claims that EVO is to begin the next chapter of Esports for PlayStation and its many multiplayer titles. This acquisition also includes a partnership with esports venture RTS. The reveal will be a heavily online-focused event starting on August 6th and again on August 13th. Each event will last 3 days, ending on the 8th and the 15th respectively.
According to the Sony blog post, the EVO 2021 event is still set for this August. The currently included games in the lineup include Street Fighter V, Guilty Gear Strive, Tekken 7, and Mortal Kombat 11: Aftermath. However, it's likely that there will be other games added to the lineup later on. According to the post, an announcement regarding more games will come out soon, most likely via another blog post from Sony. Despite the fact that PlayStation now owns the rights to EVO, the tournament will still be open across different platforms, which means games like Super Smash Bros. and other titles inaccessible by PlayStation are still possible candidates for the extended list of fighting games. A representative from Nintendo made a statement regarding how they feel about this new situation.
"Nintendo has enjoyed engaging with fans at past Evo tournaments and wishes the show organizers the best with their new venture. We will continue to assess Evo, and other opportunities, as we plan for future online and offline Super Smash Bros. tournament activity."
The EVO has long been known for bringing fighting game tournaments into public view, with games like Street Fighter and Tekken being staple entries. EVO has also launched the careers of well-known and loved players like Justin Wong and Daigo Umehara. Unfortunately, last year the 2020 tournament was canceled following the spread of COVID-19 and the start of widespread quarantine. However, around the same time, there were also accusations of sexual harassment from EVO organizer Joey (Mr. Wizard) Cueller, which also played a part in stopping last year's tournament. The head of Business Development for EVO stated that the union with PlayStation is intended to help them continue supporting the fighting game community under a new leader. After the cancellation of the tournament and the change in leadership last year, the somewhat uncertain future is starting to take shape as EVO and PlayStation work towards something new.
This year's EVO event will definitely be a step back from what people are used to, but it's also a fresh start. With Cueller removed from the company entirely, the current leadership team is looking to work with PlayStation to ensure this year not only reaffirms their support of the community but also make up for lost time from last year. Tom and Tony Cannon stated that, "In order to deliver on the trust you have all put in Evo, we realize that we need an experienced strategic partner who truly respects the spirit of the FGC. This is why we're excited to announce that Evo has become part of the joint partnership of Sony Interactive Entertainment and RTS. The new partnership is committed to bringing amazing tournaments and competitive gaming experiences back to you this year and beyond.‍"