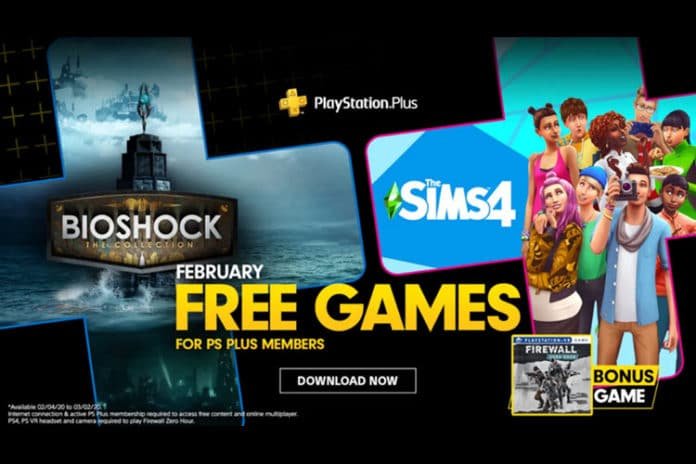 Last Updated on January 30, 2020 by Mark P.
Much like their Microsoft competition, Sony makes some games available for free every month to PlayStation Plus subscribers. With February right around the corner, we now know which games are being made available for those subscribers in February.
It's a good thing too, because with so many of the major games being expected in 2020 getting delayed, gamers are going to need some other titles to keep themselves entertained in the meantime. To make that even better, PlayStation Plus subscribers will also be getting three games in February, instead of the typical two.
The three games being made available to those subscribers this coming month are The Sims 4, Bioshock: The Collection, and Firewall Zero Hour. All of these games will be available on February 4th. Needless to say, this is a pretty nice collection of games.
Bioshock: The Collection
Bioshock: The Collection contains all of the games from the Bioshock series, including the first game, Bioshock 2, and Bioshock Infinite. The appropriate games are remastered, the all of the DLC that has been released for these games is part of the collection as well. With how well received this series of games has been over the years, being able to get the collection for free is definitely a serious boon every PlayStation player should take advantage of this month.
Sims 4
The Sims 4 probably doesn't need to much explanation; it is another typical entry in EA's long running life simulator series. It fell a bit short when it was first released, but since then it has received plenty of support in the form of expansions and DLC, solving most of those problems.
Firewall Zero Hour
As for Firewall Zero Hour, it is a game exclusively PSVR title in which players work together to take on various first person shooter scenarios. It supports the use of a PSVR Aim controller, but is also compatible with the regular move controllers as well.
However, with these games coming on February 4th, this means you have very little time left to pick up the free games for January, which includes Goat Simulator and Uncharted: The Nathan Drake Collection. Just remember that all of these free games each month are only available for people who have PlayStation Plus subscriptions, which aren't free. But if you do have such a subscription, you may as well maximize how much you are getting out of it and net some free games each month.