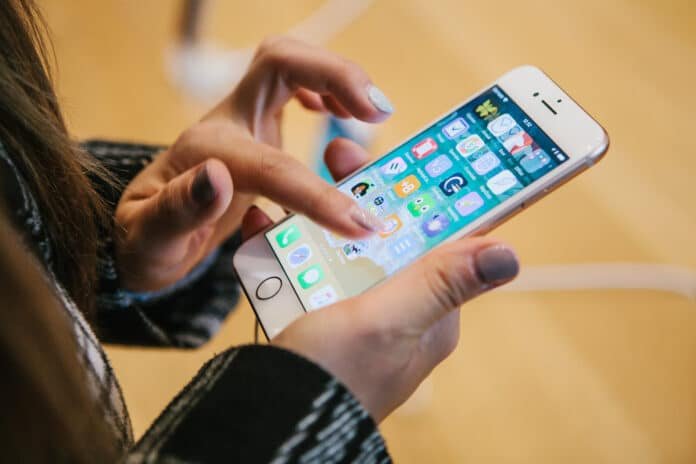 Last Updated on February 9, 2021 by Mark P.
Used iPhone 8 Deals
How did we ever get by without smartphones? Today, Apple is a leader in technology and releases new iPhones every year. Customers wait in long lines and spend a considerable amount to buy the latest iPhone with the newest features and functionality. However, not everyone cares about the most advanced technology. Some people want a smartphone that works and is reliable. They use their phones to make calls, communicate via text, check social media, and send emails.
If the price tag on the new iPhone 12 seems outrageous, a used iPhone 8 offers an affordable alternative. You may wonder if buying an older generation iPhone is a good idea, but the iPhone 8 is only three years old. While cutting edge at the time of its release, the iPhone 8 is far from obsolete. Keep reading to learn more about used iPhone 8s.
Where to Get a Good Deal on a Used iPhone 8
There are many places to find older-model iphones like the iPhone 8, so getting the best deal on a used unlockediPhone 8 might seem overwhelming. From mom-and-pop shops to online 3rd-party sellers there are deals to be found for a used iPhone 8. Here are some of the current deals available online at eBay:
Oops! Something went wrong in loading products.
Should you buy a used iPhone 8 in 2020?
In 2020, Apple released the iPhone 12 and the iPhone 12 Pro. The newest addition to the iPhone family is compatible with 5G technology and features an updated camera system, graphics, and sound quality. While it may have all of the bells and whistles, the iPhone 12 is far from a necessity.
A used iPhone 8 is still perfectly capable of carrying out the most important functions of a smartphone. Released in September of 2017, the iPhone 8 offered the best technology and smartphone advancements at the time. Many people who purchased an iPhone 8 at the time of the phone's release still have the same phone today. If you are concerned about buying a used iPhone 8 in 2020, rest assured that the older generation iPhone will get the job done well.
What features are included with the iPhone 8?
The iPhone 8 was released in September of 2017. The phone featured a new design with glass and aluminum, available in three different colors. The glass provides top-notch durability, making even used iPhone 8s high quality. The display offers Retina HD for quality videos and photos, and the A11 Bionic chip was designed to provide augmented reality experiences. The camera system was updated for the iPhone 8, offering Portrait Lighting. The phone also came with wireless charging capabilities.
How much does a used iPhone 8 cost?
When the iPhone 8 was first released, pricing started at $699. Today, you can purchase a used iPhone 8 for $250 or less. The price of the used iPhone 8 will depend on the condition of the phone, the storage capacity, and whether the phone is locked or unlocked. If you are purchasing a used iPhone 8, look for an unlocked model to ensure it works with your preferred phone service provider.
iPhone 8 Used Unlocked
Today, it seems like smartphones are a necessity instead of a luxury. However, they can cost quite a bit and new models are released each year. If you want to save money on your smartphone, a used iPhone 8 is an affordable option. When you purchase an iPhone 8 used, it is best to make sure it is unlocked. A locked iPhone 8 may not be compatible with your preferred phone service carrier, leaving you out of luck and out of money. Keep reading to learn more about buying an iPhone 8 used unlocked.
Do you have to buy an iPhone 8 used unlocked?
When you search for a used iPhone 8, you will find both locked and unlocked options. While an unlocked used iPhone 8 may cost slightly more than a locked model, the extra cost might be worth it. A locked cell phone can only be used with a specific carrier. If you purchase a used iPhone 8 and it is locked to the previous owner's phone service provider, you may be unable to use the phone. The previous carrier may be unwilling to unlock the phone, and you will have wasted your money.
Buying an iPhone 8 used unlocked can save you time, money, and a headache. You can keep your current cell phone carrier and save a considerable amount on your iPhone. An iPhone 8 used unlocked also provides you with the freedom to switch phone carriers if you choose.
Can you unlock your own iPhone 8?
If you buy a used iPhone 8 that is locked, you may be able to unlock it. However, unlocking a used iPhone 8 is not a guarantee. If you purchase a used iPhone and cannot use it with your carrier, it is likely locked. You can unlock a used iPhone 8 by contacting the previous cell phone carrier and requesting that the device be unlocked.
The phone carrier makes the ultimate decision on whether or not to unlock the device. If the phone was paid for in full and not under a current contract, the provider may be more likely to unlock the phone. If money is owed on the account or the cell phone is still under contract, the company may require payment in full before unlocking the phone.
How much does a iPhone 8 used unlocked cost?
An iPhone 8 used unlocked costs $250 or less. The price is much less than the iPhone 8 when it was first released or the latest iPhone priced at $699 and above. A used iPhone 8 that is not unlocked may cost slightly less than one that is unlocked. The price of the phone may also depend on the phone's condition and storage size.