Camping & Construction Generators for Sale Right Now
Oops! Something went wrong in loading products.
Portable Small Camping and Construction Generators
A portable generator is a machine that allows you to produce power when you're off the grid at a campsite, on a construction site or where traditional electricity is not available. That's a definition you'd give to someone that's never heard of one.
What a portable generator really is, however, is completely different. While the internal components and way it works doesn't change, portable generator users will tell you that these machines mean so much more to them.
A portable generator is a lifeline after a storm takes out the power lines in your area. You know, like when you're stranded while you sit in the dark with phones on low battery mode and food spoiling inside your refrigerator. That's what these are for.
For an outdoorsman, a generator lets them stay connected to the outside world. At least, enough so that their kids don't complain too much despite camping comfortably in an RV. Before a football game, concert or any other outdoor event, a generator provides power for whatever pregame or pre-event traditions you have.
Bottom line, a generator is much more than a machine you occasionally pull out when things aren't going your way. In a way, it's reassurance that even when everything is going poorly, you'll be all set. More realistically, it minimizes the discomfort you face and helps preserve your way of life regardless of what's going on around you or where you are.
Small Camping & Construction Reviewed
Generators vary in size, power and cost. Understanding that one size does not fit all, we profile a half dozen of our favorites that check all different boxes. Rather than force you into a single type of generator, we want to give you the power to decide what portable generator is best for you. Read about what we've picked out below—you never know when you'll need to use one of these.
---
Here are the best camping & construction site generators:
1. Best for Camping: Generac 7117 GP2200I 1,700 Running Watt Portable Gas Inverter Campsite Generator - Great for Small Construction Jobs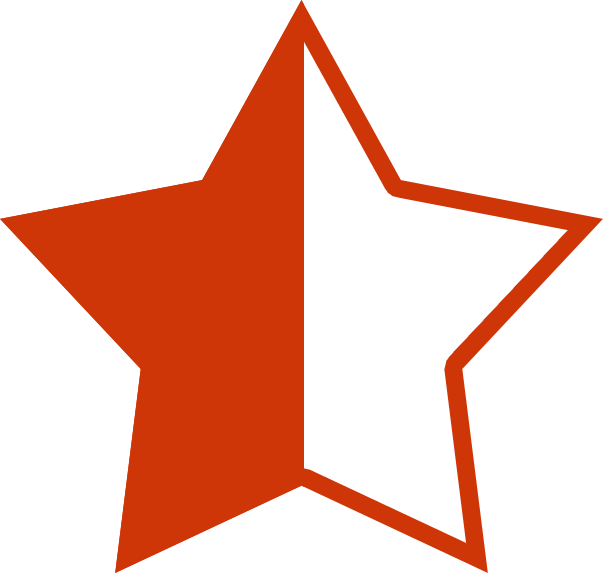 4.5 out of 5 stars
Generac 7117 GP2200I Portable Inverter Camping Generator Review
Generac GP2200i inverter generators come with 2200 starting watts and 1700 running watts. Inverter generators are usually less powerful than traditional generators. However, they are more attractive eco-conscious users. In general, inverters produce less harmful emissions. As an added bonus, are quieter and produce steadier power.
Going with the theme of efficiency, the Generac GP2200i inverter generator has a gas tank that is only 1.2 gallons, but lasts for nearly 10 hours. One thing that you'll also have to keep in mind with the tank duration is that there are power constraints. Even though it lasts extended hours, this inverter generator is not suitable for powering the largest appliances in your home.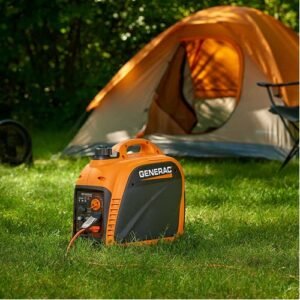 Weighing in at under 50 lbs., this is the epitome of a portable & mobile generator. While it does not have any wheels, it can be transported using a handle built into the top of the generator. When you need a little more power, but don't want to start at square one, a second Generac GP2200i inverter generator can be paralleled. This handy method doubles the power and lets the generators work together.
This is the type of generator tailored for someone who plans on using the machine sparingly, and maybe does not have much operating experience. Generac has made this model easy to start and operate. Even if you are not the most careful or competent with upkeep, Generac has pieces that cover the outlets, consolidate output and prevent overload.
Comparable to the Honda EU2200i Inverter Generator.
See more Generac generator reviews.
Original Retail
$679.00
UPC
00696471004045
Model
7117-0
Brand
Generac
SKU
GP2200I
---
2. Best for Construction: Westinghouse WGen7500 Portable Gas Camping or Construction Site Generator with Remote Electric Start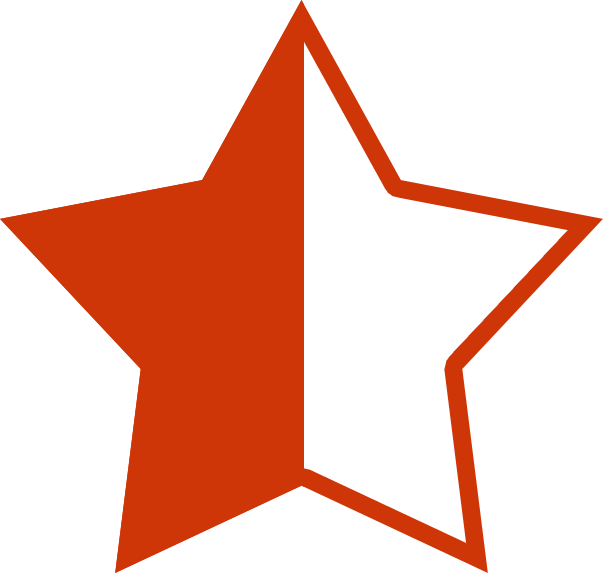 4.5 out of 5 stars
Westinghouse WGen7500 Portable Construction Generator Review
The Westinghouse WGen7500 Gas Powered Portable Generator is the second most powerful portable generator on our list. This option comes with a 9500-watt peak capacity, sometimes called starting watts. It also has a 7500-watt rated capacity, sometimes called running watts.
With this much power, you can run household appliances big and small. Speaking of big, the generator weighs just under 200 lbs. Even at this weight, it moves around easily thanks to a fold-down handle and a pair of wheels. Having an effective means of transportation makes it possible to take the generator wherever you need it, and easily store it when not in use.
There is no shortage of outlets on the Westinghouse WGen7500. With extensive and various options to hook up to, you're presented with another problem. How much power am I actively using? Westinghouse added on a display screen that tracks voltage output, frequency and hours. Even better, the gas tank can be read as easily as the one in your car.
Rather than have to be scared of overloading your generator, Westinghouse does it for you. When oil levels are too low, the generator will shut down. Taking it a step further, voltage is regulated and it will not attempt to power more than it can handle. Instead, it will shut down. Not only will it be visible, but the generator is monitoring itself at all times. With this system, you are protected from inadvertently damaging the machine.
When you fill up the 6.6-gallon tank of the Westinghouse WGen7500, you can expect it to last around 11 hours while running at 50% wattage capacity. Starting this portable generator is pretty easy. The generator comes with the standard electric and recoil start options. It also offers a third option; remote start. Just like you start your car from inside before work on a cold winter day, you can also get your generator running.
Comparable to the Honda EU7000iS Generator
More from Westinghouse Outdoor Power Equipment via YouTube about the Westinghouse WGen7500 Portable Generator:
Original Retail
$949.00
UPC
00855464003988
Model
WGEN7500
Brand
Westinghouse
SKU
WGEN7500
---
3. Best for RV: Champion Power Equipment 76533 3800-Watt Dual Fuel, RV-Ready, Electric Start Portable Camping or Construction Site Generator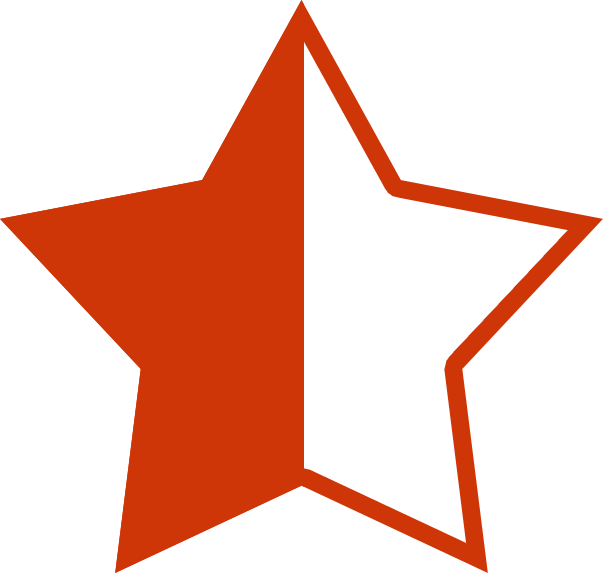 4.5 out of 5 stars
Champion 76533 Portable Campsite or Construction Generator Review
If you're buying the Champion 3800-watt portable generator, versatility is probably at the top of your checklist. Even if it's not, you're buying from a brand with products built on longevity and a top-tier customer support system. Basically, there is a wealth of information about their products online, which will help you troubleshoot any issue that comes up.
Let's start with the versatility aspect. The Champion 3800-watt portable generator can be powered using gasoline or propane. Whatever you have on hand is what you can use to power your generator. You can even switch back and forth between the two. Using gasoline at a 50% load will power the generator for around 9 hours. With a 20 lb. propane tank, you can expect 10.5 hours of running time.
With added versatility comes the need for a little bit of extra attention. Things like expected tank capacity and wattage depend on the type of fuel you're using. With gasoline, you have a 4750-watt starting capacity and 3800-watt running capacity. With propane, you have slightly less power. Propane power comes with 4275 starting watts and 3420 running watts.
The Champion 3800-watt portable generator weighs about 120 lbs. If you're strong enough to safely carry this weight, there are two sturdy handles, one on each side. If you prefer to not hurt your back trying to run an AC unit and a few lights, there are two wheels suitable of traveling across all types of terrain.
See more at Champion Power Equipment
Overview of the Champion 76533 3800-Watt Dual Fuel Portable Generator from Champion Power Equipment via YouTube:
Original Retail
$699.00
UPC
00896682000151
Model
76533
Brand
Champion
SKU
76533
---
4. Most Affordable: WEN 56200i 2000-Watt Gas-Powered CARB Compliant Portable Inverter Construction or Campsite Generator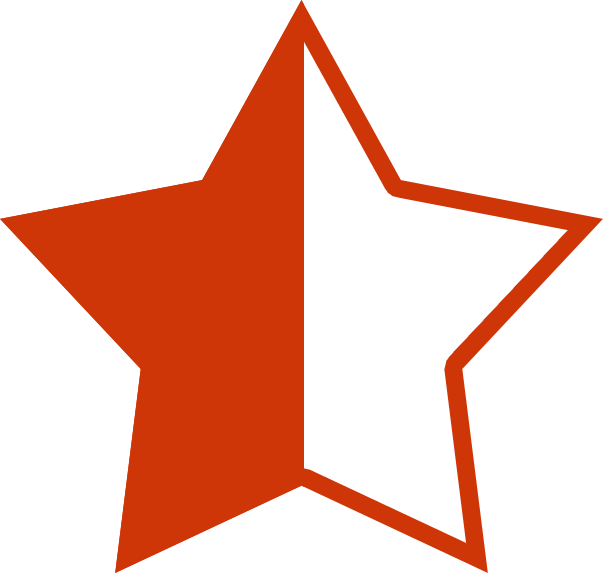 4.5 out of 5 stars
WEN 56200i Portable Generator Camping Review
The WEN 56200i portable inverter generator provides 2000 watts of surge (starting) power and 1600 running watts. Weighing just under 50 lbs. with a 1-gallon gas tank, it's no surprise that this is a favorite of campers and tailgaters alike. When you need power on the go, the WEN56200i is easily carried by a built-in handle.
Inverter Technology
Inverter generators might not be the most powerful machines you can find, but they fill a key role. Traditional generators, while more powerful, are prone to inconsistent or less clean energy. With an inverter generator, you can comfortably use computers, charge cell phones and run other electronics. This is, of course, without fear of shorting them out or having any other problems.
Power
With just 1600 watts of power available, you have a few ports and receptacles. If you want to be able to power more appliances, you will probably have to take advantage of the WEN 56200i's parallel ability. An eco-mode switch is found on the main panel of the generator. This option allows you to optimize performance even more than WEN does for you. Keeping on theme as an electronic-friendly generator, there is a USB port among the traditional outlets making for easy cell phone charging.
Quiet
Operating at about 50 decibels, you'll hardly even notice when your generator is running. Most users wouldn't even notice if the generator was off unless lights aren't on or phones aren't charging. On a full tank, you should be able to get around six hours while using half the power capacity.
Visit WEN's website for additional information and manual.
More from WEN via YouTube:
Original Retail
$499.99
UPC
00044459562009
Model
56200i
Brand
WEN
SKU
56200i
---
5. Best Bang for the Buck: DuroMax XP4400EH 4400-Watt Dual Fuel Electric Start Portable Generator for Construction Sites or Camping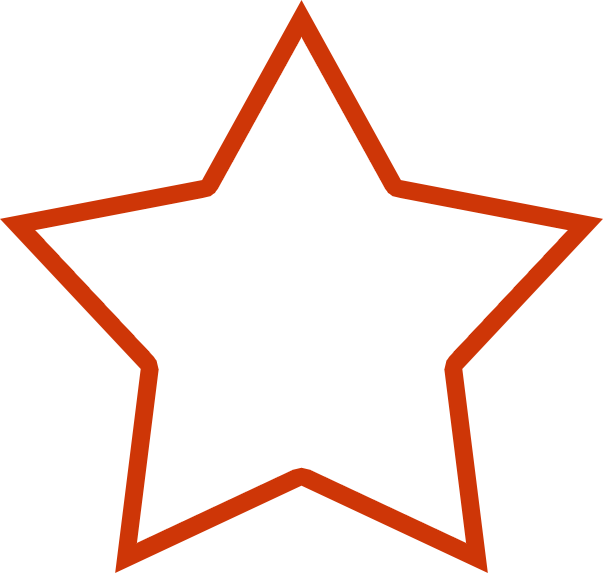 4 out of 5 stars
DuroMax XP4400EH Portable Construction Site Generator Review
DuroMax XP4400EH portable generators can be run using either gasoline or propane. Weighing 127 pounds, it is transported using two attached wheels, and either a fold down handle. If you're up for the task of carrying it, there are handles on each end that double as part of the frame.
Runtime
When you fill the 4-gallon gasoline tank, you can expect about 11.5 hours runtime using half power. If you opt for a 20 lb. propane tank, it lasts slightly less, somewhere around 10 hours. Regardless of whether you're using gas or propane, once the generator is running, it cannot be moved without powering down.
Wattage
With gasoline power, the DuroMax XP4400EH produces 4400 starting watts and 3500 running watts. Using propane, the DuroMax XP4400EH is capable of 4180 starting watts and 3325 running watts. Just as with runtime and wattage, using propane produces slightly less power across the board.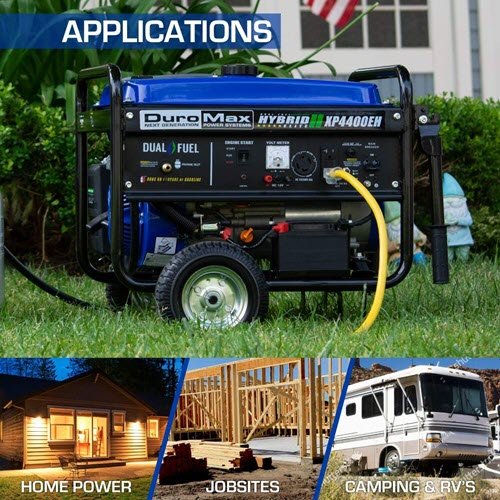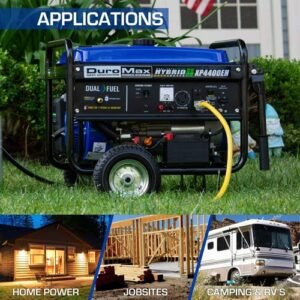 For what propane lacks in power, it makes up for in cost. If you do not plan on maxing out power levels with each use, propane is worth looking into. When you buy machinery like a generator, it's usually not a good idea to cut corners. But, after buying a high-quality generator, it's safe to save a couple of dollars this way.
Quality
Here's the thing about the DuroMax XP4400EH, it's built to last. With an entirely metal construction, the frame is built to stand up against even the toughest environments. Whether it's getting lugged through the woods to a campsite or sitting at the bottom of a worksite, you don't have to worry about casual damage. Additionally, having all copper windings inside will help maintain longevity.
See more at DuroMaxPower.com.
Additional Info from DuroMax via YouTube:
Original Retail
$749.99
UPC
00811640013486
Model
XP4400EH
Brand
DuroMax
SKU
XP4400EH
---
6. Best Dual Fuel: DuroMax XP12000EH 12000-Watt Dual Fuel Electric Start Portable Construction Site Generator - Great for Camping!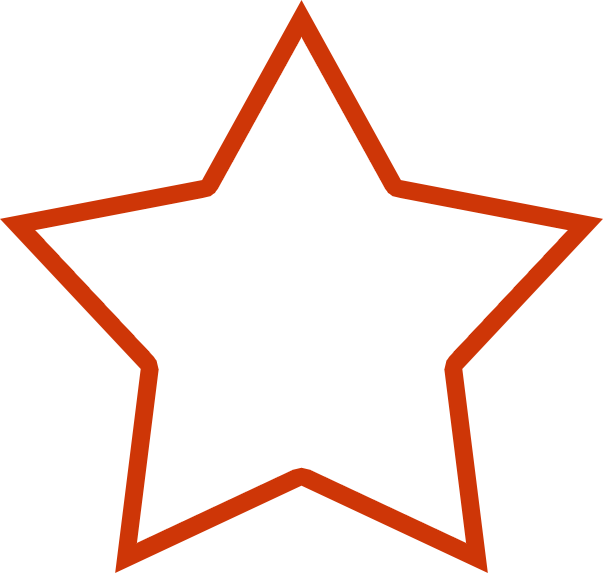 4 out of 5 stars
DuroMax XP12000EH Portable Construction Generator Review
The DuroMax XP12000EH is another duel fuel capable portable generator. This option, however, is more powerful than the others we've profiled. Actually, it's the most powerful in our entire guide, and capable of powering several large appliances. DuroMax XP12000EH generators are a true combination power and versatility.
With great power comes great fuel consumption. The stock gas tank is 8.3 gallons and will run for just under 9 hours at 50% rated capacity. With a bigger engine, the recommended propane tank size is 40 lbs. A full tank will run for around 7 hours using the same amount of power.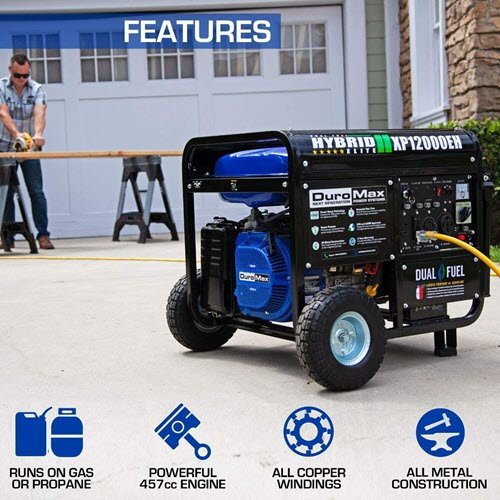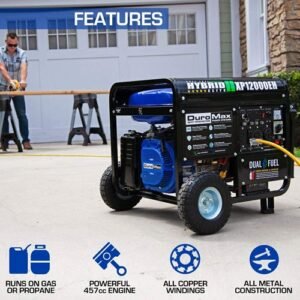 As is true with all dual fuel generators, gasoline is more powerful than propane power. If you opt for gasoline, you'll have access to 12000 starting watts and 9500 running watts. When using propane, the DuroMax XP12000EH caps out at 11400 starting watts and 9025 running watts.
The DuroMax XP12000EH is a hefty generator, weighing 260 lbs. Recognizing that hardly anyone can carry anything that heavy, especially considering its 40" x 29" x 27.5" frame, DuroMax knew it needed to deliver a top-notch transportation setup. With two wheels that will not go flat and folding handles, I'd say they succeeded.
When you're running air conditioners, refrigerators and other large appliances, you need a higher quantity and more versatile outlets than with a generator designed to keep the lights on. The DuroMax XP12000EH comes with 5 outlets to account for appliances of all voltages.
See more at DuroMaxPower.com.
More about the DuroMax XP12000EH 12000-Watt 18 HP Portable Generator from DuroMax via YouTube:
Original Retail
$1,299.00
UPC
00811640014674
Model
XP12000E
Brand
DuroMax
SKU
XP12000E
Camping & Construction Generator Buying Guide
Not all portable camping generators have the same level of portability and not all construction generators have the same level of power. While some are as easy to carry to your campsite as a cooler, others require considerably more effort. Thanks to advances in modern generator construction, powerful and heavy generators are now considered portable. Wheels, handles, frames that can be carried, there is an option out there for everyone.
In our portable generator guide, we took a look at inverter, dual fuel and traditional generators. There is no uniform answer for what type is best for you, but narrowing your choices down is a matter of thinking what you'll use it for.
Inverter generators are the least powerful, but tend to be the quietest, produce the lowest amount of emissions and are the lightest. As you start to go more powerful, generators become heavier. The further you go up the scale, the more mindful you need to be of things like weight and wheels. If you're confident wheeling a heavy generator and want the extra power, nothing is stopping you.
If you want a generator for the few times a year where your power goes out because you don't want to sit in the dark, you can go small and affordable. Running things like a lamp and a television will only take a couple hundred watts. If this is all you plan on running, save some money; consider an inverter and other cheaper and smaller options.
If you're the hub of tailgating or running a remote construction site, your hands are tied by the machines you'll be running. The bigger the appliances, the more expensive and powerful your generator needs to be. Things like full-size refrigerators and AC units will take up more than a thousand watts themselves. If you're running a few of them at a time, you're going to want plenty of power to spare.
Additional Items to Consider
We hope our portable generator buying guide was helpful in allowing you to choose the right portable generator for your use. Here are a few additional items to consider before buying a portable generator:
Various small and large appliance power requirements
Determine what type of generator you want, how much power you'll need
Dual fuel or not dual fuel
Need something you feel comfortable transporting and operating