Last Updated on June 17, 2020 by Mark P.
It is hard to deny that 2020 has been a busy year so far, not just in terms of worldwide events, but for Dell in particular. Just within the first five months, Dell has released numerous updated laptop models including refreshed versions across the XPS line, the XPS 13, XPS 15, and the brand new XPS 17. The long-overdue XPS 15 9500's (2020) makeover, however, is a welcomed change for all XPS fans.
The new design of the XPS 15 laptop is futuristic and sleek sporting an extremely thin edge-to-edge bezel, ultra-slim profile, large keyboard, and oversized trackpad.
Dell XPS Pricing
Pricing for the Dell XPS 15 9500 (2020) will vary depending on its build. Starting prices on Dell.com range from $1299.99 for the Non-touchscreen Core i5 version with 256GB SSD and 8BG RAM up to whopping $2890.99 for the Touchscreen Core i9 version with 64GB RAM and 2TB SSD. The build reviewed by TheDealExperts team is a Core i7 10th-Gen $2400 build with 32GB RAM and 1TB SSD, and it runs fantastic overall.
Check out prices for the Dell XPS 13.
Check out prices for the Dell XPS 15.
Check out prices for the Dell XPS 17.
Size and Weight of the Dell XPS 9500 (2020)
PCs are known to be a bit bulkier and heavier than, Apple Macbooks, for example, and Dell laptops have much of the time fallen victim to this disparity. As 2020 is proving to be a year of many changes there is no exception when it comes to the Dell XPS. The weight of the Dell XPS 15 varies between 4lbs and 4.5lbs. Despite its lightweight feel, however, it still gives off a solid and sturdy impression.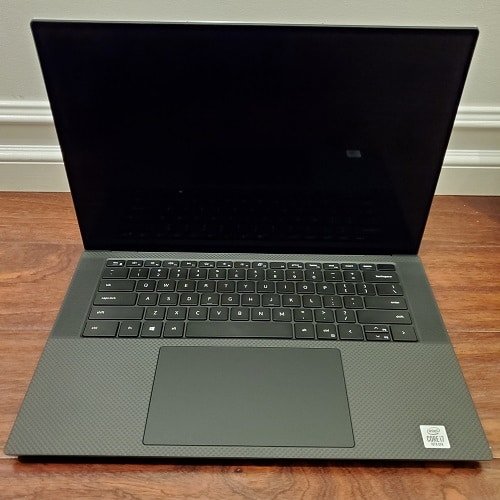 The dimensions of the Dell XPS 15 have shrunk, big time. With a height of 0.71″ (18 mm), a width of 13.57″ (344.72 mm), and a depth of 9.06″ (230.14 mm) the XPS 15 strikingly feels and looks like its smaller cousin, the XPS 13. TheDealExperts team gives a well-deserved 4.5-star rating regarding the XPS 15's build, size, and weight factor.
Connections and Ports on the Dell XPS 15
Because of its smaller size and slimmer profile, Dell had to design the ports and connections accordingly. The result, no HDMI and no USB-A connections. Although not the most inconvenient thing, having to use an adapter can be bothersome at times, but in the end, it mostly comes down to individual preference. Note: Dell includes a USB-C to USB-A and HDMI adapter with the laptop.
The Dell XPS 9500 has 3 USB Type-C ports, 2 of which are Thunderbolt™ 3, and all 3 having power delivery capability via the Dell power adapter.
On the right side of the laptop you can also find a full-size SD card slot, a favored feature of those who work a lot in editing photos and video. Next to the SD card slot, you will find the 1x 3.5mm headphone/microphone combo jack.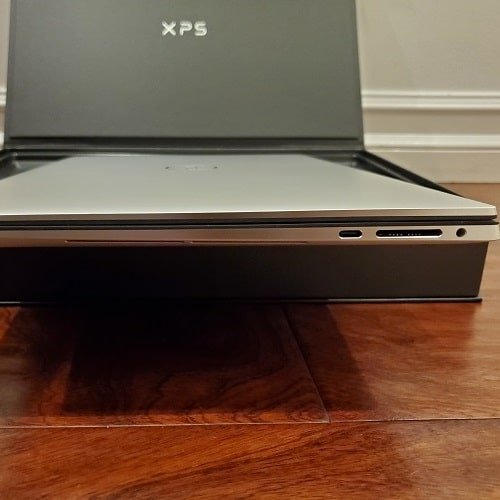 On the left side of the laptop, you'll find a Wedge-shaped lock slot, and 2 of the USB-C ports.
That is all. That's the extent of the connections on the XPS 15. TheDealExperts team gives a 4.5-star rating with regard to port availability seeing as Dell has done a good job with the minimalist ports and connections design.
Display on the Dell XPS 15
The 15.6-inch display on the XPS 15 is something to take note of. With options ranging from 1080p to 4k, the brilliant and ultra-sharp resolution will captivate you. Whether you're watching movies, playing games, or surfing the web, the display delivers. One unique feature on the XPS 15 is the screen size. And one of the biggest changes with the screen is the new 16:10 display and stunning edge-to-edge view. Compared to the traditional 16:9 display, having the extra room to do more really comes in handy. The touchscreen display is very responsive to commands and quite accurate as well.
Speakers on the XPS 15
The 2 face-up speakers located on either side of the keyboard produce an immersive and enveloping sound that fills the room whether you are listening to music, playing games, or watching movies. There is a little bit of a muffled aspect to the sound somewhat similar to the 'orchestra' sound preset you find on most music players. This must be the result of Dell's Waves Nx® 3D audio feature. TheDealExperts team gives a 4-star rating for the quality of the speakers.
Dell XPS 15 9500 Processor and Graphics Card
A workhorse laptop computer requires immense power, and with the 10th Gen Intel Core i7-10750H processor, (12MB Cache, up to 5.0 GHz, 6 cores), you get just that. The next generation of the Intel Core processor delivers blazing-fast performance, handling numerous applications running at once with ease. Multitasking is surely not a problem on the Dell XPS 15 9500. Watch videos, surf the web, run applications and experience little-to-no freezing up.  The Dell XPS 15 is outfitted with an NVIDIA GeForce GTX 1650 Ti 4GB GDDR6 graphics card. The graphics are outstanding on this XPS 15 with virtually no visual lag in tests done by TheDealExperts Team.
Final thoughts on the Dell XPS Laptops
Dell has come a long way over the years and decades in terms of the quality of its desktop and laptop computers. From bulky Inspiron and Latitude notebook computers to sleek and lightweight XPS laptops and powerful Alienware gaming computers. Just take a look at the new Dell XPS 15 9500 (2020) compared to the XPS 15 laptop from a few years earlier. Yes, these are both 15-in XPS laptops.
As Dell continues to perfect its best-selling 13-inch and 15-inch XPS laptops to be on par with slick-looking Apple Macbooks, they went even further and surprised the tech industry this year with the release of the brand new XPS 17-inch laptop. When one hears 17-inch laptop they would automatically think bulky, brick-like, and heavy. However, to keep in line with the new lightweight and slim design of these new XPS laptops, Dell does an excellent job in remastering what 17-inch laptops used to be.  Starting at a mere 4.65 lbs, this has to be one of the lightest 17-inch laptops on the market today. Dell manages to keep the 17-inch laptop super slim as well with modest dimensions of the height at 0.77″ (19.5 mm), width at 14.74″ (374.45 mm), and depth at 9.76″ (248.05 mm).
A couple of issues we had when purchasing the Dell XPS 15 9500
One snag we hit, which is probably just a QC (Quality Control) overlook, was that we had to get a replacement twice because of small issues on each of the laptops. On the first delivered XPS 15 9500, there was a loose trackpad, which had a jiggle or rattle to it when you only lightly place your finger on it.  On the second replacement of the XPS 15 9500, there was a loose screen hinge which prevented the laptop from staying closed completely. 3rd times the charm, I suppose.
FAQs
What is the size and weight of the new Dell XPS 15 9500 (2020) laptop?
The Dell XPS 15 9500 (2020) has a starting weight of only 4lbs, and measures in at 0.71″ (18 mm) for height, a width of 13.57″ (344.72 mm), and a depth of 9.06″ (230.14 mm).
Where can you buy the new Dell XPS 15 9500 (2020)?
Right now the Dell XPS 15 9500 is only available direct from Dell. We can expect authorized retailers to sell the new notebook later this year.
Does the Dell XPS 15 have a touchscreen?
Yes, the Dell XPS 15 has touchscreen options and costs a bit more than the non-touch version.
How do you factory reset a Dell Laptop with windows 10?
To factory reset, or reboot, your dell laptop simply type 'Reset' in the bottom taskbar search field next to the start button, and click on the option that says 'reset this PC'. Alternatively, you can navigate to the 'Update and Security' section of your computer's settings and click on 'Recovery'.
How do you take a screenshot on a Dell laptop?
One simple way to take a screenshot on a Dell laptop is to use Windows' built-in Snipping Tool app. Click 'New', and then drag the mouse to select anything you wish to take a screenshot of.