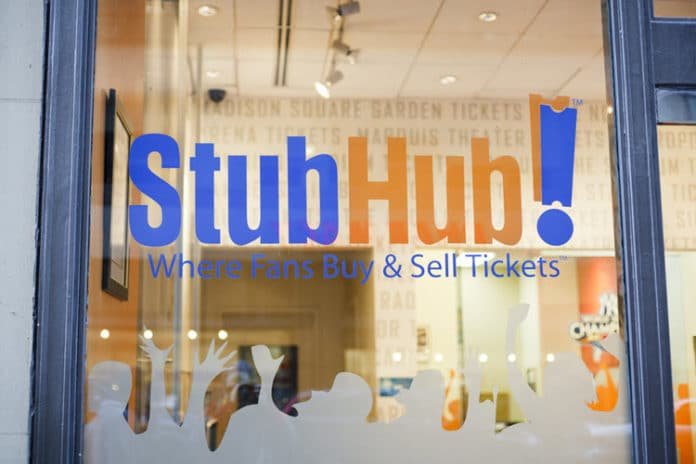 Last Updated on July 19, 2019 by Mark P.
eBay is finally moving forward with their plan to potentially sell the ticket exchange company StubHub. eBay made this statement to CNBC's David Faber. Sources say that eBay is seriously considering the sale, due to the fact that many companies are interested in buying StubHub. Upon the news, eBay's shares rose by about 2.8%, along with the tear the stocks have been on for most of this year, rallying more than 45%. It's even outperforming the S&P 500, which is up 19% this year.
This news followed an announcement from eBay that they would be conducting a strategic portfolio review on March 1st.
The stock ended the normal session down 2%, but ultimately traded approximately 6% higher after the company reported better-than-expected earnings.
eBay CEO Devin Wenig said on Wednesday,  "We're making significant progress and actively reviewing the role and value of StubHub and Classifieds in our portfolio. Our company is focused on determining the best path forward to create shareholder value."
eBay has been under a lot of pressure recently, after activist Elliot Management took a $1.4 billion stake in the company, followed by another activist investor, Starboard Value. The company declined to comment on this, though they are scheduled to report quarterly earnings after the close Wednesday.
The kind of effect the sale of StubHub will have is debatable, but there's no doubt that eBay would be able to make a fair profit from it. As to what companies would actually buy StubHub, eBay wasn't very forthcoming on that front, so it's unclear who is looking to buy at this time. But considering the benefit eBay stocks took thanks to the news, apparently the sale is looked upon favorable by a great number of people. When we could possibly expect the sale of StubHub to actually occur is a mystery. Only CEO Devin Wenig will be able to shed more light on the situation.