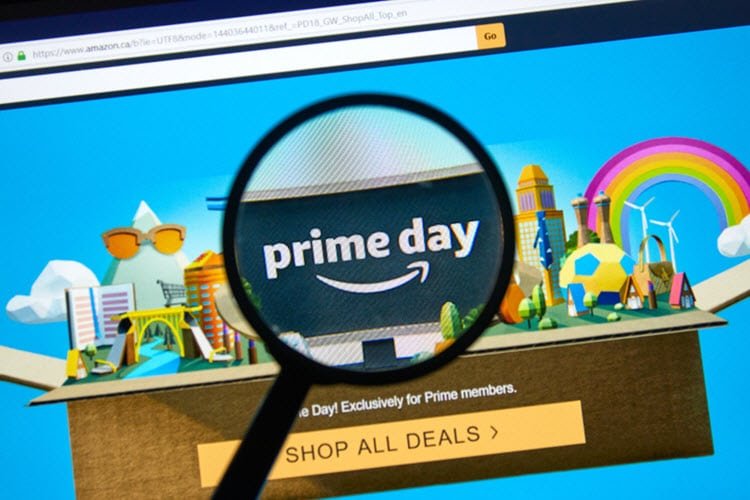 Last Updated on August 20, 2019 by Mark P.
Amazon Prime Day, launched in 2015, marks one of the biggest shopping days for the online retail giant. Started as a celebration of its 20th anniversary, Prime Day now sees increasing consumer interest and sales projections.
Consumers are interested in Prime Day 2019 due to the more than one million deals globally available on Amazon. The company is even offering daily deals and general deals to entice customers. Prime Day will serve customers in 18 countries worldwide.
One researcher speculates that Amazon may double its sales growth from 2018's $3.8 billion haul. Coresight Research suggests that Amazon could easily capture more than $5.8 billion in global sales due to the event being extended to 48 hours from 36 hours in 2018.
According to Coresight, customer can even shop from U.S.-based "innovators, artisans and entrepreneurs" during this year's event.
Jeff Wilke, Amazon CEO of Global Consumer, told Coresight Amazon's vision is to let Prime Day "be the absolute best time for consumers to enjoy shopping, savings, entertainment and some of the best deals Prime members have ever seen."
Coresight reported that more customers signed up for Prime memberships during the first day of Prime Day than on average in Amazon history and has more than 101 million U.S. subscribers. While many publications are reporting on deals on Amazon, Vox is continuing coverage of the Amazon warehouse strikes.
According to Vox, warehouse worker strikes have mounted in five countries for better working conditions in the retailer's warehouses during the two-day Prime Day event. "Crossing the digital picket line is particularly complicated, however, when the corporation in question is a monolith," Vox reported. "Amazon owns a host of other companies, including Audible, Goodreads, IMDB, Kindle, Twitch, Whole Foods, and Zappos, making it, as Business Insider put it, somewhat 'boycott-proof.'"
Amazon provided a statement to Vox regarding those protesting Prime Day, stating that "those protesting in the U.S. are simply not informed." Amazon told Vox Monday evening, "Roughly 15 associates participated in the event outside of the Shakopee fulfillment center.
It was obvious to the 1,500-full-time workforce that an outside organization used Prime Day to raise its own visibility, conjured misinformation and a few associate voices to work in their favor, and relied on political rhetoric to fuel media attention."
In a press release, Amazon renewed its invitation to policy makers to visit its warehouse facilities to tour the factory.
"Amazon has created tens of thousands of jobs across America in the last year alone and now employs more than 275,000 Americans in 46 states," Amazon wrote. "Our associates receive a minimum wage of $15 an hour, educational opportunities, and comprehensive benefits on day one."