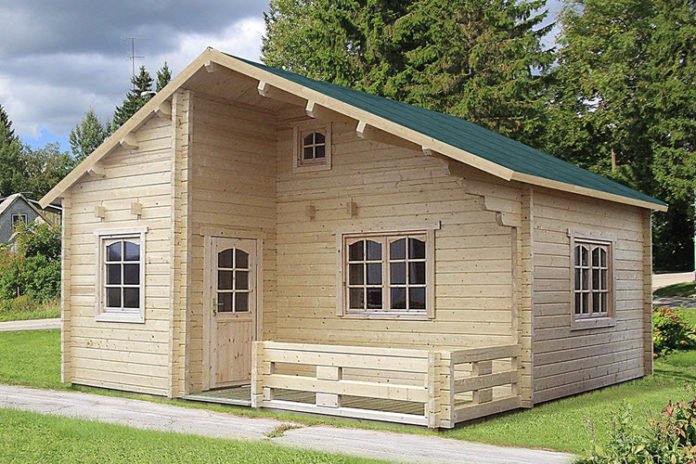 Last Updated on November 21, 2020 by Mark P.
Tiny homes continue to increase in popularity as the trend has grown traction over the past several years. Some tiny homes measure fewer than 400 square feet, but many first-time homebuyers or those looking to downsize opt for these houses. Amazon Seller Allwood now offers do-it-yourself tiny home builder kits ranging from $5,990-$34,000, depending on how large someone wants their home to be.
One home, the Allwood Ranger Cabin Kit offers a 259 square-foot space and a 168 square-foot loft for comfortable living, use as a summer home or possibly a retail space. The product is pre-assembled and takes around 45 days from the date ordered to receive. At nearly $20,000, the Allwood Ranger Cabin kit comes with all the items needed to put the home together.
Only minimum tools are needed for construction of the tiny home and it comes with all nails, screws, handles and door locks. Allwood suggests that it's a two-adult project, due to the height of the building.
Although it seems like a great avenue to homeownership, no one has left a customer review. It's uncertain how many of these homes have been sold. Another cabin by Amazon Seller Lillevilla provides an area space of 292 square-feet and a 292 square-foot loft. The seller states its large enough for a summer house, home office or even a stand-alone retail building, according to the product description. However, the seller suggests that those who live in colder climates may want to purchase additional insulation to keep the cabin cozy in all weather.
This $18,800 Lillevilla cabin takes two to three days to assemble and uses Nordic spruce flooring with roof materials included.
One reviewer stated that this product is not ready to go and customers are better off building from their own materials. "It will cost you another 30-40 thousand to make it livable. you will need to insulate, roof, plumb, put in cabinetry, flooring and a foundation to sit it on complete with tie-downs to the compliance of where you live," Desertkat wrote. "Build this same thing with metal studs and you'll be better off."
So if anyone is considering purchasing a pre-fabricated home off of Amazon, they may want to consider how they will insulate the home if it is their primary residence. Also, fitting in a bathroom may as well. While the tiny home, pre-made design seems ideal, researching options before purchasing something online could help someone build the right tiny home that suits their family.