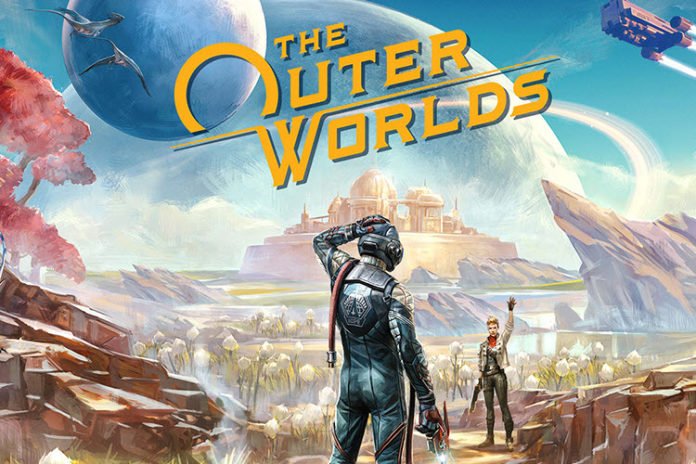 Last Updated on November 12, 2020 by Mark P.
Despite the initial idea that the Outer Worlds would potentially be an Xbox exclusive title, we've known for some time that it was coming to the Nintendo Switch (and it released for a bunch of other platforms besides). However, we didn't know exactly when this was going to happen; until now. Fans of outer space capitalism can rejoice, because the Outer Worlds will be available on March 6th, which isn't too terribly far off.
The Switch release was announced today but Obsidian, Private Division, and Virtuous Games, with the game retailing at $60.00. Both a physical boxed version with a download code and a purely digital version on the Nintendo eShop will be available for purchase. Surprisingly, this port of the game will be dropping a mere four months after its initial release on PS4, Xbox One, and PC. Most games take a whole lot longer than that to get properly ported to another platform, so this speed is pretty impressive.
Needless to say, adding The Outer Worlds to the Switch is a pretty intelligent move on Obsidian's part. After all, the Switch has very few notable RPGs of such a caliber available, with only the Witcher and Skyrim really being comparable. That said, an RPG like the Outer Worlds can easily cater to the niche of players that want such games, which means major profits for Obsidian. And considering that the Outer Worlds is significantly smaller than either of those two games, it should run even better than they do on the Switch, so it should look and feel fantastic.
Besides that, The Outer Worlds did very well for itself immediately upon launch; a genuinely amazing RPG with some seriously amusing satire on corporate greed and classic mechanics the likes of which many will recognize from Fallout New Vegas, it is sure to be a popular hit on the Switch; honestly, it's pretty amazing that it took them this long to put it out, being an almost guaranteed cash cow and all.
If we're lucky, the success of another major RPG title on the Switch will mean that more RPGs will make it onto the platform in due time. With the Switch being the premiere handheld console available right now, it certainly needs as many genres to be available on it as possible, so the better The Outer Worlds does, the better for everyone.
Related: Where to Buy a Nintendo Switch