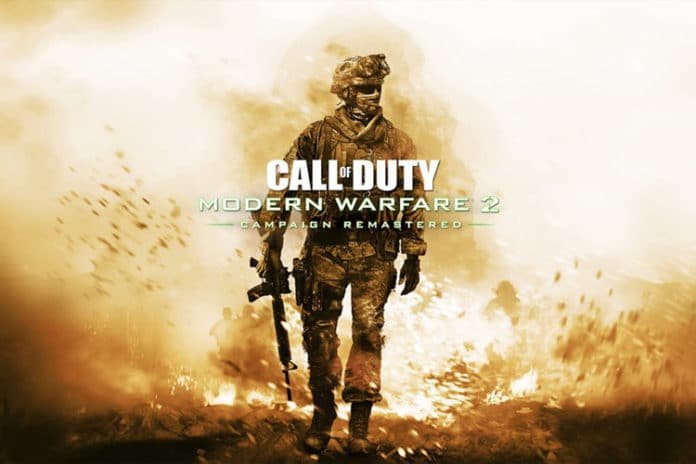 Last Updated on April 3, 2020 by Mark P.
It was only recently that a leak tipped society off to the upcoming release of the Modern Warfare 2 Remastered title, and yet Eurogamer announced that the listing for the PlayStation 4 is accurate, and despite that listing being removed, the Remastered campaign for the game is launching on March 31st: that's tomorrow, of course.
As said previously, there have been many rumors before now of a remastered campaign for Modern Warfare 2, from various sources. It started off on Reddit, where a datamine of season 3 for the rebooted Modern Warfare title found details of the at-the-time unreleased Warzone mode, as well as some information on the Modern Warfare 2 Remaster.
Following this, a rating for the remastered campaign was found on a South Korean Ratings Board, apparently a bit ahead of schedule. Finally, a Twitter account called Okami, which accurately predicted the release of the reboot's Warzone mode, claimed that the Modern Warfare 2 Remastered would be released on March 30th.
There's clearly no sign of the game today, so Okami may have been the slightest it off, but Eurogamer reports that it is going to be available for purchase tomorrow. The report even goes so far as to suggest that the Modern Warfare 2 Remaster has actually been completed for quite some time, and Activision was simply waiting for the opportune time to release the game. Apparently that time is now: could have something to do with everyone being stuck at home thanks to the Coronavirus and therefore having more time to spend on games, but that's pure conjecture.
Now, while the remastered version of this old classic may be coming tomorrow, it's important to note that the game is just the campaign, and does not include any of the multiplayer. Of course, it is understandable why this decision was made, seeing as how COD multiplayer is pretty standard across all titles. Instead of remastering the multiplayer of Modern Warfare 2, the multiplayer maps that it sported will be touched up and added into the rebooted Modern Warfare multiplayer instead.
It remains to be seen if this report from Eurogamer is accurate or not, but at least we only have to wait one day. Of course, if it ends up being wrong, we'll have nothing to look forward to and our expectations will be swiftly crushed.
That said, it seems pretty unlikely that Eurogamer would get this report wrong, considering how accurate they usually are. As for any other details regarding Modern Warfare 2 and its remastered campaign, we don't have much to go on. But if it does come out tomorrow, we'll all be learning those details really quickly, so perhaps it is irrelevant. For those only interested in the multiplayer, we don't know if all of the remastered maps will make it into the rebooted game, or when they will if they do. Hopefully though, fans of the game will get all of the maps they loved from 2009.