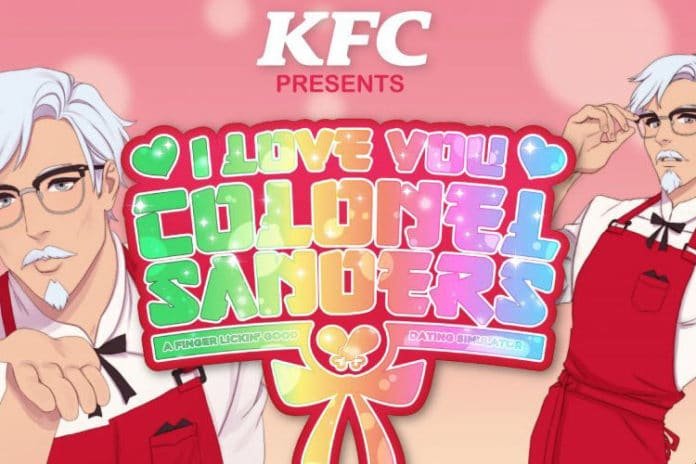 Last Updated on September 15, 2019 by Mark P.
You may be inclined to believe that the title of this article indicates an April Fools' Joke; but you'll probably notice very quickly that it's not April. Granted, this could still just be an extremely early joke for April Fools' 2020, but as of right now, we have no reason to believe this isn't real, other than the very questionable nature of the entire scenario.
That's right; KFC, the same restaurant chain that supplies you with buckets of chicken, is allegedly going to publish a dating sim called I Love You, Colonel Sanders! A Finger Lickin' Good Dating Simulator. We swear we aren't making this up. The game has a product description on Steam and everything.
Supposedly, you will play as a culinary student with great potential, who is also looking to date their culinary classmate, Colonel Sanders. Part of the Steam description reads as follows:
"Throughout your journey, you'll be faced with life-changing decisions that will affect your chances of friendship and love. But be careful! Your choices have real consequences with real animated characters' feelings at stake."
The game will supposedly include nine fleshed out characters, a secret ending to achieve, special recipes, cooking face offs, and battles of some sort. This is on top of the eleven herbs and spices and the ability to date Colonel Sanders of course. To be frank, the art style in the trailer actually looked very good and professional, and it looks like KFC may well and truly be interested in putting out a decent game with real effort in it. That doesn't really make the whole scenario less real, as it honestly sounds like a comedy skit or an internet prank.
And yet, KFC assures us that the game is coming soon. There is no official release date yet, so who knows how long we'll legitimately have to wait for this obvious blockbuster of a game. That said, it feels like the wait will be fairly long, considering the extreme lack of info we have. How much will this game cost? What platforms will it be available on? KFC may be publishing it, but who is actually developing it? All of these questions are ones we hope to see answered in due time, but until then we'll just have to wait and see how on Earth this ridiculous situation will play out.