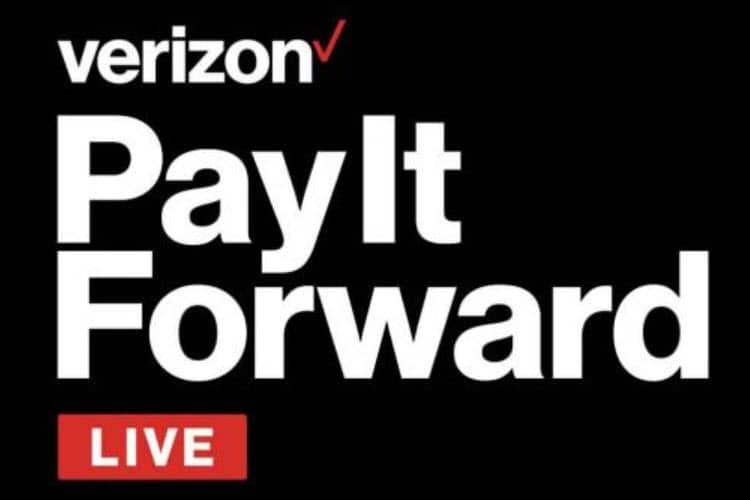 Last Updated on April 1, 2020 by Mark P.
Looking for some good news? I've got one for you, Verizon has officially announced they are planning on launching their very own streaming entertainment series! According to the Hollywood reporter, "Verizon has found a way to marry digital entertainment and philanthropy while honoring social distancing guidelines via Pay It Forward Live, a new weekly streaming series that will include music, games, comedy, and other content, all to support small businesses that have been affected during the coronavirus pandemic."
The article continues saying that the "series launches Thursday at 8 p.m. ET with an exclusive performance from veteran rocker Dave Matthews." This new weekly series from the telecom and entertainment giant uses the combined talent of entertainers and celebrities as they use the money raised to earn a potential "$5 million sum to help small businesses regain footing" as a result of this pandemic affecting us all.
On the premiere episode, Matthews will "do a 30-minute set from home that will be streamed on Twitter @verizon and on Yahoo Entertainment." Additionally, other "partners and artists, who will follow his lead with intimate home-based performances, will be announced at a later date." Verizon has committed to donating $2.5 million "to Local Initiatives Support Corporation (LISC), a national nonprofit that has invested $20 billion since 1979 to boost economic opportunity for people and communities across the U.S."
Funds raised from Pay It Forward Live as well as the extra $13 million will go to such reliable and reputable organizations such as No Kid Hungry, the American Red Cross, the Center for Disaster Philanthropy COVID-19 Response Fund, Direct Relief, and the COVID-19 Solidarity Response Fund "in support of the World Health Organization's global response.
Because of the thousands of businesses shut down and other social distancing guidelines, all this has "forced many entertainers to rethink how they reach their fans." Information about those rescheduled dates and the latest from the Dave Matthews band can be found here.