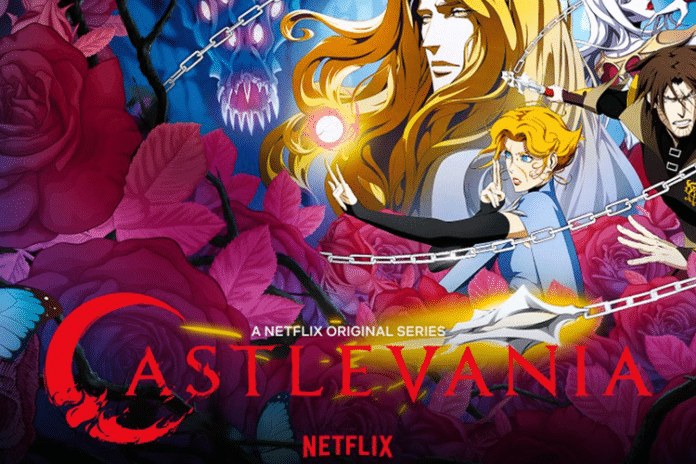 Last Updated on March 31, 2020 by Mark P.
Good shows are hard to come by, but Netflix usually manages to deliver on quite a few of them. That's why it's good news whenever one of those great shows gets renewed for another season. Castlevania is in that boat, with the excellent Netflix original being renewed for a fourth season. This announcement was made on Netflix's official Twitter account, accompanied by a scene from season 3.
Unfortunately, we don't really have any specific details regarding this season four, such as how many episodes it will have or when the season would even debut. It seems pretty unlikely that a new season will drop anytime in the near future. After all, season 3 had been announced all the way back in October of 2018, but the first episode didn't debut until March of 2020. And like this season 4 announcement, the season 3 announcement was made shortly after the previous season had debuted. So, taking all of that into account, it's pretty unlikely that we will see this confirmed season four anytime this year. We probably won't get to enjoy any of the new season until mid or even late 2021.
However, there's pretty high confidence in the quality of the future season, as season 3 has already received great reviews. IGN, in particular, gave season 3 of Castlevania a perfect score of 10/10, saying "Castlevania's unique combination of sarcastic humor, supernatural horror, violent action, and deep pathos makes it the best video game adaptation around."
While the quality of any show comes down to personal opinion, it is fact that a lot of people seriously enjoy Castlevania, and considered the excellent voice acting, animation, and plot. It isn't hard to see why especially when compared to your typical game adaptations. Granted, most video game adaptations aren't in the form of TV shows, but the point still stands: Castlevania is a gem in the rough and news that it will be continuing, even if that continuation is more than a year from now, is great news.
That said, the great success of Castlevania as a video game adaptation could also lead to some new doors being opened in television, as it seems Adi Shankar's Devil May Cry series could get a series of its own; hopefully of the same quality as the aforementioned show.
While that isn't guaranteed, the notion of having more of the amazing stories and characters of video games being properly translated to media is a great one, and something that many people would probably look forward to. If Castlevania's success on Netflix could contribute to that in some capacity, then we wouldn't complain if it went on to have a season five, six or even seven.
However, Netflix is unlikely to greenlight a show for any series they don't think will be popular enough to cover the cost of it, so we might miss out on some niche series. But with The Witcher and Castlevania going strong, it seems we will get some pretty great shows.