Last Updated on January 2, 2022 by Mark P.
Holiday shopping doesn't have to be stressful or expensive. See our holiday gift guide below with gift ideas, tips to saving on holiday shopping & more.
Finding the Right Gift for the Person You Love
We all have those people in our lives that you have no idea what to shop for, try to stick with gifts that everyone can use. Obviously, not everyone wants a generic gift card, because they are impersonal, but there are some ways to make those obvious gifts a little more personal.
Gift Ideas for Men
Husbands, boyfriends, dads & brothers.
Gift Ideas for Women
Moms, wives, girlfriends & sisters.
Gift Ideas for Kids
Boys, girls & babies.
Gift Ideas for Gamers
For the gamer in your life.
Here are some additional interesting gift ideas for other important people in your life like friends and coworkers:
Home Goods
There are certain things that need to be replaced regularly, like oven mitts that get burnt and destroyed over time. Towels, cleaning rags, and sponges are all common household items that we often forget to replace. Make them personal with a specific color choice or even pop culture reference that the person your shopping for has shown plenty of interest in. Skip the cleaning chemicals and shoot for colorful and fun home supplies that wear down regularly.
If they moved into a new home later in the year it's not too late to give a housewarming gift!
Good Drinks
Do they like coffee? Do they need a new coffee machine? Or are they a tea drinker? Are they always having a glass of wine at dinner, or have a particular type of beer they like? Think about the brands and flavors you've seen them enjoy if you can, and let them try something different (and hopefully similar).
If they're an avid coffee drinker and you'd prefer to get them coffee beans instead of a coffee maker, don't get the name brand beans. Look for a blend they've never had, and maybe wouldn't have tried otherwise. The same principle applies to tea, beer, wine, and even liquor. Find a unique flavor that will appeal to your receiver and make your gift really stand out.
Unique Foods
Whether they're a foodie or your area has something different to offer, a unique treat is always sure to please. Always be considerate if the receiver prefers sweet, salty, or savory when choosing your snack. Not everyone loves chocolate, and not everyone likes summer sausage! Try to consider what kinds of snacks you know they like and look for a unique or local brand you may have never even heard of.
However, if you know of an elite hard to find a brand that they truly love and can hardly find, a special direct order from their website will make you a holiday hero.
You can even go with something like a gift card to a popular food truck or restaurant in your area.
Ask Away
You don't have to pretend to know this person incredibly well to get them the perfect gift! Ask them if there is anything they need. If you prefer to be less obvious that you are asking what to get them, just have a conversation about food, drink, or their home life and they will definitely leave hints for the perfect gift.
Even if you don't know exactly what they want, a gift that is personal and unique is always more impressive than a gift card.
Tips to Saving on Holiday Shopping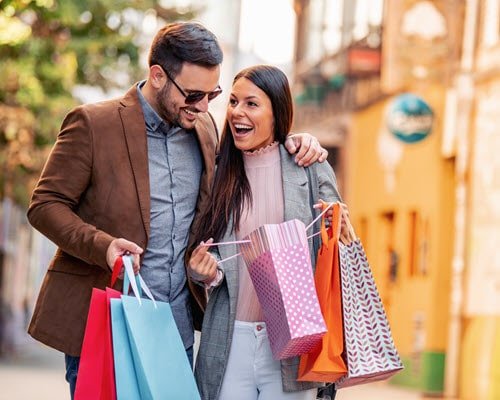 Once you're ready to start shopping for the holiday you'll want to jump to your favorite retailer and start marking items off your list. You already shop smart and have your places marked out, but do you know you're getting the best deals? Are you making the most out of that holiday cash?
Before you finalize those purchases, make the most out of your spending with these pre-shopping tips.
Cashback Offers
Before you start making purchases check all of your cards for any bonuses or cashback offers. Yes, even that card that's been hiding in your wallet could be holding stacks of untapped cash! Utilizing cashback is one of the greatest ways to save money while you spend. Even debit cards with certain banks offer a percentage, however small it may be, The only catch is, you have to activate it! You have to take a look at your accounts and check not only what offers are available but make sure that you will get that cash back!
Make special note of the stores each card gives you money back on, put a small note on the cards even so that you never miss an opportunity to keep your money.
You can even start using that store credit card you never thought you'd use.
Cashback Shopping
Aside from cashback credit cards, there are numerous ways to earn money while you shop, some apps make it a little easier than others. While the most powerful shopping assistance comes with a fee, never underestimate the power of the holiday. These apps are sure to have a special holiday sign up deals, and referral bonuses to share with the rest of the family.
Some of the most popular names in cashback shopping, like Rakuten and "RetailMeNot", offer instant cashback as you shop from your favorite retailers. These sites also typically offer amazing discounts and shopping guides to help make your gifting even easier. This year, the NY Times has put out a great gift ideas list which helps you break down ideas by price and category.
Search Manufacturer Coupons
The holidays are times for discounts! While your major retailer may have a discount sticker price, the manufacturer could have something even better to offer! Most of these types of coupons can be redeemed with major retailers in-store to get your savings right away.
Direct shopping is already a good rule for discount shopping and is even more important during the sale season.
Shop Online Early
Save on express shipping by purchasing your gifts at least two weeks before the holiday. If you are shipping to yourself to give in person try bundling those purchases to limit any shipping cost. Alternatively, if you are sending your gifts to someone far from you, ship those directly from the retailer and save yourself that additional fee of packaging and postage.
These essential tips will make saving money this holiday season as easy as spending it.
Frugal Gift Ideas for the Whole Family
Have a lot of family members and not a lot of cash? You can still send thoughtful gifts that your relatives will appreciate without breaking the bank. While some of us may still be distancing and keeping the gifts minimal, large families with kids can add up quickly.
Try these two foolproof holidays "gift" ideas to save on the holiday expenses and still send your love.
Personalized Holiday Cards
Personalized cards can be as easy as a few clicks and strokes of the pen. There are several options for designing and printing, you can use Vistaprint or Canva to quickly set up a card with unique text or photos. You can go out and take a nice picture to put on your card, or just put up a picture you already have! Once you have a design you like you can order prints directly from the website.
There are even more websites you could use like Avery or Shutterfly to send high-quality personalized cards right to your door. You can make things even more polished by ordering envelopes that match your cards. Limit your hand cramps by having either the prepared envelopes or address labels, if you can prepare your envelopes with printed destinations.
Though they may seem like a small token, it's the thought that counts. With a lot of your cards printed don't forget a kind signature before sending them out!
Virtual Greetings
A meaningful gift that is complete gratis (that's free!) for all. You can be the hero of the holiday and bring your family together, despite travel restrictions. Arrange a stay-at-home holiday, advising your family members of a meal and finding the right time for everyone to sit together for an hour, or even just 30 minutes. While this may seem like a short time your family (or group of friends) will be grateful for the virtual time together you have created.
If you are keen on planning and can't get together in person this year, there are tons of games available to play virtually – from Uno to Cards Against Humanity you can keep their attention that much longer while eating pie right from the tin.
Make your time even more precious by adding one on one time with those special members of your friends and family. You may be surprised how much this gift may actually be for yourself!
Money isn't Meaningful
The spirit of giving doesn't necessarily mean spending money, it's your time and thought that your receiver admires. Instead of cashing in on easy gifts and sending them directly through the retailer, make your holidays personal with incredibly unique holiday cards or a virtual holiday party.
Holiday Gift Budgeting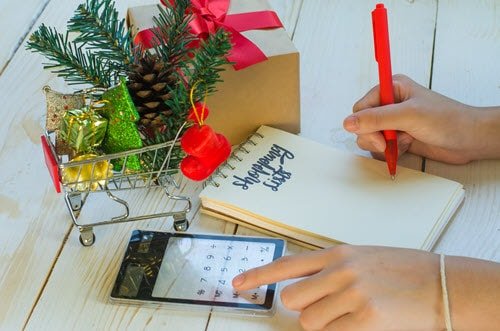 The holidays are approaching fast and chances are you're starting to look at gifts for your loved ones. Those delivery dates are just around the corner and you're not sure you have the funds to cover the Christmas list. It's too late now for starting that holiday savings plan; how can you budget for the holidays when you've forgotten to save up the cash?
Follow these simple tips to save your wallet this holiday, while still spreading joy.
Forecast Your Expenses
Just like you budget out your bills and expenses, plan out what your expenses will be for the holidays. How many people are you buying for? What are your holiday "bills", who are you gifting, what are you cooking, and where are you going? Be realistic and plan for the unexpected, go through your virtual address book, and really consider who you may be shopping for.
Once you write out all those expenses you may see places, gifts, or even people that can be taken off of your holiday bill. Start off wide, then reign in your forecasted expenses to start managing your holiday money properly.
Limit the Gifts
It can be tempting to send everyone in your frequent contacts a gift, the little voice from your credit card may be saying something different. Consider sticking to free virtual cards and phone calls to let people know you're thinking of them instead of sending an $8 forgettable gift. Take a look at your forecasted list and start changing your "small gift" receivers to a list of people you will be sending personal cards to.
Alternatively, limit the number of gifts for each person. Instead of getting many small things for loved ones, maybe one medium-priced purchase that is more useful for the receiver. Choosing the gift is the hard part, make the spending part easy.
Set Specific Spending Limits
You may spend more on one person than another; while the gift's importance isn't dependent on the price – you still need to pay attention to what you are spending. Based on your budget, set specific limits on how many items you can buy at a certain price.
For example, keep the high dollar, $150+ gifts under 1-3 purchases to take control of your giving. Even if you've only bought 5 of the 10 $50 gifts, that doesn't mean you should buy another high dollar item.
Manage Your Generosity
This is the season of giving! How could you possibly stop yourself from bending the budget and sending gifts to everyone? While it can feel amazing to give, consider what your budget might say. Sending love and seasons greetings doesn't have to mean sending boxes of gifts, it really is the thought that counts. This year put thought into your loved ones and your wallet.
Remove the Holiday Stress with Organizing and Tracking
Budgeting in the holiday season is the most hectic and difficult to track. There is always someone you forgot to buy for or something you forgot to get. Those impulse and unplanned purchases are multiplied during the season of giving, that's why you need a plan. Use simple organizational tools to keep yourself on track and manage your holiday budget for your money and your time.
Family List
Who is getting a gift this year? Who is getting a card? You may have done this already but go back over your friends and friends and consider who you will be buying for, and who is sure to send you a gift.
Prepare your cards and gift wrap properly without having to go back to the store for your cousin three days before Christmas.
Gift Lists
What are you going to get your loved ones? Will you make it simple and have a uniform gift for adults and a toy for children, or do you have something else on your mind? Make a gift list, a shopping plan, for each person before you start looking for inspiration.
Limit your time searching for gifts by having a general idea of what you're going to get before you go to the store. It's just like grocery shopping, if you don't go in with a list you could leave with more junk than you need.
If you're trying to be considerate of your budget, add price ranges and limits on the gifts to keep your spending under control. As you shop, make note of what you actually spent on the gifts and track those holiday splurges.
To Do Lists
It seems like there is an endless amount of things to be done before the holiday hits. How are you going to get everything done with time to spare? First, take the time to write down all of those things you've got to do. From decorating to cooking dinner to wrapping and sending, the tasks lists for Christmas seems to be never-ending – but I promise it will!
While it may take a day for you to figure it all out, it takes less time to write everything down at once than it does to scramble to figure out what to do next. Now that you've got a full list of things to do, you can budget your time accordingly without worrying about what you're forgetting to do.
Food Lists
The most important list of all, the food and meal lists. You would be surprised what gets forgotten when you don't write down your favorite dishes and traditional meals. For each holiday we have our special treats and meals that make the table unforgettable, unfortunately, the ingredients often are. Make note of every ingredient and take stock of your home before going to purchase the whole store.
Budget like a professional by adding your spending limits to your meals and baked goods. Maybe you don't have to make a batch of your favorite sweets. If you know only a few people will enjoy a certain item, consider cutting it from the menu or making a very small portion. Limiting your menu will help manage your money and time spent in the kitchen.
Go Forth with Your Bullets
Now that you've got everything organized you can properly track your expenses for each of your lists. This is a helpful tool to visualize what you are spending on the holiday, and hopefully, find some places you can save and skimp. We often forget how much we open our wallet in the name of celebration, take the time to track and plan your spending and keep your budget from breaking.
We hope this holiday shopping guide makes your life a little bit easier and holiday more enjoyable.
Happy Holidays!
-TheDealExperts