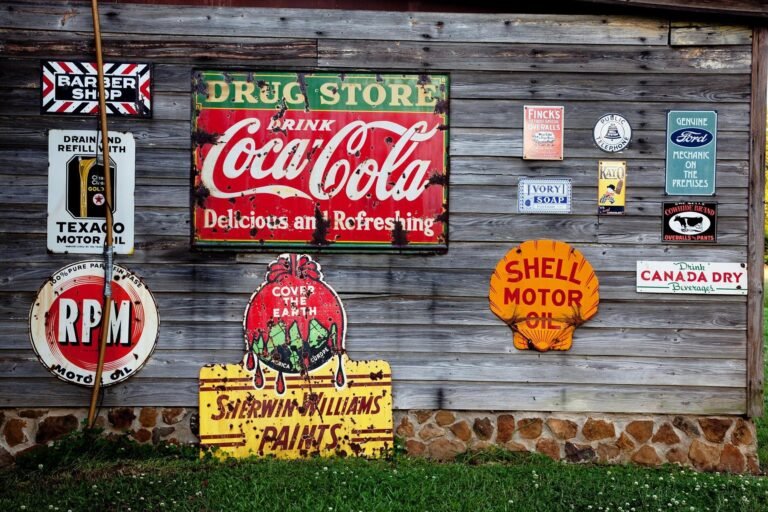 Last Updated on July 30, 2022 by Mark P.
Are you aching with nostalgia? Do you want to design your home, garage, or office space with a rustic type of interior design? There's nothing that can liven up a room like a wall of rusted, faded, tin signs that feature old brands and advertisements. This decoration technique has gotten so popular that people all over the US are willing to pay top dollar to own a vintage sign.
Unfortunately, a growing trend sometimes causes the market to flood with expensive and newly crafted fakes, and these fakes come with quite a price! So why do people love vintage signs so much? How do you find a vintage sign, and how do you know that it's worth the price?
Find out more about buying vintage signs below.
Buy Vintage Signs
Oops! Something went wrong in loading products.
What are Vintage Signs?
While the differences between the words "retro", "vintage", and "antique" have been used interchangeably, they are very different terms. A "vintage" item is used, but it's a high ticket item due to pop culture popularity. The word "vintage" is like a pretty buzzword attached to older items to appeal to the customers. An article typically becomes vintage when it reaches the age of 25 years old.
History of Collecting Vintage Signs
Believe it or not, signs have been around for a very long time. The first recorded occurrence of a traffic sign was in ancient Rome. The signs were usually carved into the side of smooth stone, facing the road so carriages and pedestrians could clearly see it. Since then, signs have become more detailed and a lot easier to hang on the wall.
Many vintage sign collectors believe that the sign's presence, material, and graphics represent the history of the time that. Each sign has a little bit of that era attached to it, and that's what brings people in. This person X factor is what makes collecting vintage signs so popular.
Check out this vintage signs collection:
Benefits of Buying Vintage Signs
If you ask any antique lover, they will tell you that traffic signs and old advertisements can be a gold mine. When it comes to soda brands (especially Coca-cola), beer brands, and gas & oil products and or fast food companies like McDonald's signs, you cannot go wrong. Some so many people collect these items, and some go for astonishing prices (like vintage Coke bottles worth $150,000). The best part is that the older they get, the more they'll increase in value.
The benefit of investing in a sign is that you know that someone, somewhere, would love to have it. Why? Because vintage signs provide a personal nostalgic feeling. Customers want a sign that represents themselves somehow, whether it be the town they grew up in, the grandfather's old job, or their favorite soda.
Should I buy a Vintage Sign or a New Vintage-looking Sign?
Thanks to innovation in printing technology, an artist can design a brand new sign that looks just like a vintage one. The only difference is that the faded colors, "rust spots" , and faded edges are an illusion and not the real thing. Sometimes these newly designed signs can be quite expensive when sold at a department store or furniture store, costing way more than you'd spend at a garage sale or vintage market.
What to look for in Vintage Signs
When it comes to vintage signs, the older, the better, but sometimes old age comes with some problems. Examine the paint and make sure it's not a picture printed on tin. Also, make sure there isn't too much rust and disintegration on the sign, making it hard to read the words or see the graphics. If you're buying online, make sure to keep an eye out for negative reviews about rust or fake products.
Where to find Vintage Signs
You can test your luck by going to a flea market, antique shop, or resell store to find an affordable vintage sign, but the chances of you getting a fair price are slim. Vintage signs are a popular item, and they come with a popular price. It's best to look for vintage signs on websites like Etsy and eBay, where there is a competitive market, and sellers can't pick the highest price.
Regarding purchasing a vintage sign, make sure to look around at your options before spending a lot—research what you want in your vintage sign and what you don't. Then have fun collecting!